If you've just recently joined Cohere, you probably haven't had the pleasure of meeting Ashok Amaran. Ash was one of our first Night Owl members back at the old location, and is the co-founder of Quark Studios, a full featured mobile apps and web development company.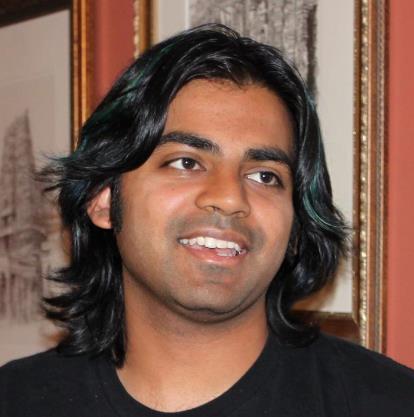 After coworking with us for about a year, Ash decided to move back to Kansas City to be closer to business partners and family (we still consider him an honorary member). We miss his quirky sense of humor, love of unicorns, and passion for coworking something fierce, but we're glad he's been able to get out and see other coworking spaces all around the country!
When we sent out a call for Cohereians to tell us what they remembered about their first day of coworking, Ash sent in a detailed account of his first experience. We figured it was so good that it should get its own blog post, so here it is.
What do you remember about your first day of coworking?
Ash: I remember it well. It was September 29th, 2010. Just a little over a week since I had met Kevin Udy at a NoCoFat tech event and at Ignite Fort Collins. He had recommended I come and try out coworking even though I was working full-time. The membership he recommended was aptly titled the Night-Owl plan, which fit my profile quite nicely at the time as I was working late nights after work on side-projects with a friend of mine in order to legitimately run a company so we could escape the dependence of our jobs. Days seemed to blur together as we both spent close to 70-80 hours a week working on projects and our full-time jobs.
This September night was going to be slightly different as I would try out a shared office space that was advertised to have members who had managed to craft their lives outside the corporate world. Their stories on the website were inspiring and something felt so right about the purpose behind their work and their intention to make a living being independent. Almost as if it was a sanctuary for those who felt like square pegs being shoved into a round hole.
I remember being somewhat anxious as work was winding down, scanning the time on my computer every few minutes to see if it had reached 5:30pm yet. I got back to my apartment, still nervous about what to expect that night. I typically cook when I'm stressed so I prepared some simple Tomato Kochi curry and ate a small meal before heading over to the space for night coworking which was happening between 4 – 10pm. For some reason, arriving at 7 seemed like a perfect time (or in other words, a safe enough time to show up where I hopefully wouldn't be the only person there and Kevin would surely be there by then). I still remember the butterflies in my stomach as I walked up the stairs after finding the old-fashioned door which led into the space.
It was quiet when I entered, with no one to be seen at the top of the stairs and the front of the space. There was a small white board on the desk in front of me that said everyone was in back with an arrow pointing in that direction. I paused and glanced at all the colorful stickers that were on the table as well as a business card by the space owner which was a circle, a pure contrast to the common rectangular ones. As I walked around the corner, Kevin welcomed me and showed a quick tour of the space. Explaining the loft areas, the kitchen, the lounge, shared desk area, the patio and other perks of the space. There was also what looked like homemade apple pie, like a crumble, on the table near the desks with small plates to serve with. I helped myself as I took a seat on one of the shared desks right behind Kevin. He mentioned the space owner had left with the only other member who was present at the time to pick up something to eat and should be back.
The night seemed slow, not the busy buzz or the high energy excitement you may expect after having seen pictures of events on the website and many videos taken within the space when it was more full. I remember we chatted about the surface level topics: what we did for a living and what brought us together in this unique space in an attempt to create a rapport from that gap of knowledge of each other's lives. Like arriving on the first day of a new school in a sea of unfamiliar faces and trying to understand where common ground was located. There seemed to be a subtle feeling however in everything that was being said that the culture prided itself on being vastly different from the corporate world.
During the many pauses in conversation, I managed to wrap up a few e-mails and send over a test version of a mobile app I had been working on for a client. I felt productive if nothing else that night. Maybe I wouldn't understand this new way of working, but it didn't slow me down from my focus on the goal of escaping cubicle life. I remember the space owner, either in drowsiness or having felt I didn't need much convincing, left that night saying only "I hope you come back; that's my hard sell".
As I went home that night, there was a calmness and peace I felt. I had not only finished that night's work, but I felt relieved and less-stressed in some way. This wasn't going to last I knew, as I had to wake up in less than 9 hours to get ready for another day at the corporate cubicle farm, but the sense of peace I felt that night still stays with me to this day.
Did you attend a free coworking day or come on a regular old day of the week?
Ash: Attended on a free coworking day.
What was your impression of the other people who were there on your first day?
Ash: Everyone seemed anxious and uncertain of how to interact with each other it seemed like. We all knew this was a cool new way to work, but it was so radically new that it was a little awkward at first.
Did someone in particular stand out to you or make you feel extra welcome (or unwelcome)?
Ash: Kevin Udy made me feel very welcome and I came purely on his invitation. I think this helps a lot when you know at least one person will be there. It can be a little intimidating to enter this new concept of work basically 'naked'.
What do you wish you had known before you tried coworking?
Ash: That the most valuable asset of coworking is the community itself and how you can participate with it. There can be a perception that simply by joining you instantly become a part of it or will enjoy all the benefits, but that's not entirely true. You only really start to enjoy all the benefits when you can integrate well with the community. This tricky part is it may be better to not know this before joining so you can add your unique flavor to the culture rather than 'attempting to fit in'. There will always be an abundance of value coming your way when you first join because everyone loves the new spice that's been added to the mix, but you must always be providing value in order to receive.
Looking back, do you wish you would have joined sooner than you did?
Ash: No. I think you learn things by having failed and it was important to suffer in a cubicle to see the true value that a coworking space offered. You can't appreciate and truly understand the meaning and purpose behind the coworking movement until you've experienced the polar opposite of it. It just seems like a private or shared office space if you can't understand the power of community. In some ways, the visions and passions that circulated at Cohere, compared to the apathy of life at my corporate job, is what made it so painfully clear how valuable a community of passionate individuals could be.