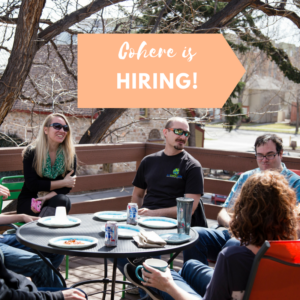 If you haven't heard, Cohere is expecting a new wee member via our Founder Angel Kwiatkowski. With the arrival of Baby K. this November, we will be adding a few helping hands to run the day-to-day of Cohere for several months while Angel recuperates.
The first position we have is an ultra-part time VERY flexible meeting room sales person. Here are more details. If you'd like to apply, follow the link at the end of this post to the bottom of the document.
Commission Salesperson Meeting Rooms (part-time/on-demand)
Overview
Handle all incoming inquiries, sales, coordination and support needed to book the Cohere meeting rooms.
Requires very fast response time (under 4 hours reply to emails/phone calls during business hours). We currently see 0-5 inquiries/week but hoping to grow that to increase meeting room revenue to at $500/mo gross or higher. The ideal person would be able to get to Cohere quickly to show the room or assist with A/V problems that might arrive. Bonus points if you want to come and work from Cohere on the days that meetings are occurring so you will already be there for any issues.
Skills
Good communicator: written, in person and on the phone..

Ability to respond quickly to inquiries or calls for help.

Attentive to details like dates, payment rate and calendars.

Practical knowledge of Google Calendar, email, voicemail, using app-based payment methods.

Punctual, professional, fast-learning, and sociable.
Tasks & Activities
Community Cultivation (The People)
Act as first point of contact for inquiries and assistance regarding Cohere's meeting rooms

Follow up and correspond with contact and inquiries

Keep and maintain contact information

Being a great communicator and wonderful people person – online, in person and everything in between.

Having a positive, entrepreneurial attitude

Solving problems on the fly
Operations and Organizational Items (The Space)
Using Cobot to make room reservations (teachable)

Identifying and implementing new ways for Cohere to become more efficient or sell more meeting room time
Marketing Items (The Brand)
Ensuring that Cohere's rooms are listed and priced correctly on external room resources.

Performing educational outreach to community groups, businesses and individuals in the course of your regular activities.

Thinking of and implementing new ways to promote Cohere as the best meeting rooms in Fort Collins.
Compensation: Commission-only 30% of every meeting room sale. The average booking is $100-120 so you'd be making about $30 for each booking that large. After training you could expect to spend 10-30 minutes with each inquiry making the sale.
Application Instructions: https://docs.google.com/document/d/1q4YWVQhH7Azvq6m_ckfRf_bQW0NFYVbE6i7qRunOgho/edit?usp=sharing
Deadline to Apply: July 27th at 5pm MST.