by Hannah Toole
Cohere Coworking Community recently hosted its incredibly anticipated unicorn potluck! Fifteen to 20 Cohere members attended with unicorn themed dishes and drinks in hand.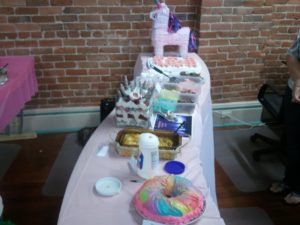 The evening was kick started with a ceremonial candle lighting in honor of our unicorn forefathers, Ashok Amaran and Alex Chiang, who may or may not have died in a tandem unicorn crash.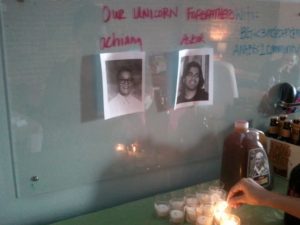 The Cohereans' conversation did not stray far from the topic of unicorns. Questions discussed ranged from the sex of a unicorn, to the color of a unicorn, to who could draw the best unicorn. The greatest question posed was, what does unicorn poop look like?  Personally I like to think it looks like rainbow dippin' dots, but others would argue that unicorn poop is pink and frozen.
Throughout the evening there was a unicorn coloring contest that members participated in. I must say, that by this age you would think people knew how to use a crayon without breaking it but that definitely was not the case. All members put forth a valiant effort, but the overall winner of the contest was Kevin U. with his majestic blending of colors.  The least colorful of all this unicorn drawings was Skippy's. However, if the contest was judged based on accuracy Skippy would have won.  He is the only person who has ever seen a unicorn in person, and according to him, all unicorns are white . . . how disappointing.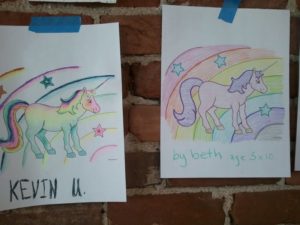 Following the coloring contest was the unicorn potluck contest. The categories and winners were as follows:
Unicorn Meat Dish: Skippy's Unicorn Meatloaf and Rainbow Mashed Potatoes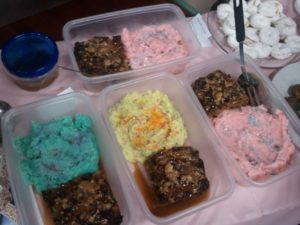 Unicorn Spirit Dish: Hannah's Rainbowlicious Cake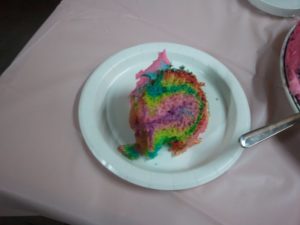 Unicorn Horns/Tales/Manes/Hooves Dish: Lindsay's Forbidden Forest Trifle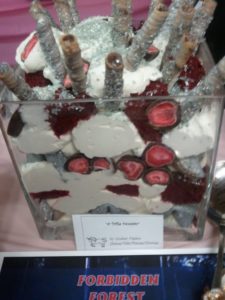 Best Presentation: Lindsay's Forbidden Forest Trifle
Other dishes worth mentioning were Spicy Unicorn Eyes (which Ashok took the liberty of making a how-to video for), Unicorn sliders (unicorn meat on a powdered sugar donut), unicorn Rice Krispies Treats and 2 "meta-dishes": a single kernel of corn in a dish and a single candy corn in a container of marshmallow fluff.
Our next giant potluck will be the Second Annual Chili Makes It Hotter event in March, 2012. What was YOUR favorite part of the Unicorn Potluck?