Our coworking community at Cohere is ready to get bigger! We're already 30 members proud and we have room for 20 more! Interestingly enough, the global coworking survey just revealed that 42% of people in coworking spaces report making MORE money than when they were on their own. So, most likely, your membership will pay you back in spades!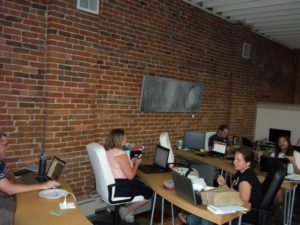 Here's our wishlist for new members in 2011.
Pre-reqs for membership: if you like being around people to get work done and are generally happy and helpful, you're our kind of people.
WordPress Developer: Do you specialize in the back end of WordPress and want to hang out with other developers who use Rails and Drupal?
Graphic Designer (print and/or web): Do you like making things look lovely? Get inspired to design with a view of the 1880's brick wall on one side and a roomful of creatives on the other!
Analyst: Do you like to find patterns and love  numbers? Come crunch your data and take your breaks with us.
Linux and Open Source Enthusiast: You know who you are. Your peeps from Canonical and Red Hat are already here coworking. Join the nerdy fun.
Public Relations Maven/Maverick: Do you specialize in your client's image?  Find a focus group in us. We'll tell you what we really think!
Videographer/Editor: Do you tell stories with frames and lenses? Come test your first screenings with us!
Copywriters: Cohere is a magnet for people who write cleverly. Join them.
Project Manager: If you freelance in PM, we want you here in the AM and the PM.
Freelancer X: If you work for yourself, start coworking with us.
Executive Director: Are you making our slice of the world better through your non-profit? Get daily inspiration to keep going through your list of to-dos.
Know anyone who fits the bill? Send them our Free Day Pass and let the coworking begin!