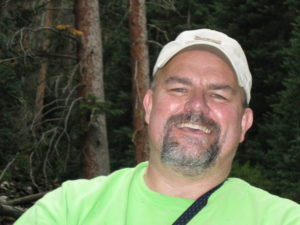 David Medberry
Senior Software Engineer
Canonical
(the corporate entity behind Ubuntu Linux)
David Medberry isn't like most people that cowork at Cohere Community (and we're not just talking about the fact that he's left handed and right footed). David isn't a freelancer and he isn't the CEO of his own small business. He's a regular employee for a big corporation. But as David demonstrates so well, you don't have to be a boostrapping entrepreneur to enjoy and benefit from the presence of an awesome, supportive work community.
In early 2011, David was working eight hours a day in a cubicle tucked deep inside the bowels of Hewlett-Packard's Fort Collins campus. He was hemmed in by lightly carpeted walls, lots of other cubicle dwellers, and a sneaking suspicion that he was just another cog in a machine. So, he decided to ditch the cubicle farm, and resigned from HP in search of better adventures.
He found a remote position for Canonical, an open-source software company, and never looked back. "Shortly thereafter, a co-worker of mine, Alex Williamson, suggested it as a place to hack/work," says Medberry. "I had periodically been escaping from my cubcle to coffee shops and this was just another twist on that."
Fast-forward about 14 months, and David a regular at Cohere's open desks, and he never feels like he's going crazy the way he did when working in his basement. "Coworking is working without borders–no fences, no walls, but plenty of community," explains Medberry. "I feel a lot freer to follow my whimsy and work from anywhere I want (including Cohere and The Armory in Loveland and Kind Coffee in Estes Park.) It's also a great excuse to get dressed! You know you want a reason to take off the jammies and put on "real" clothes."
Want to give coworking a try? Sign up for a free day pass to meet David and all of our wonderful members!