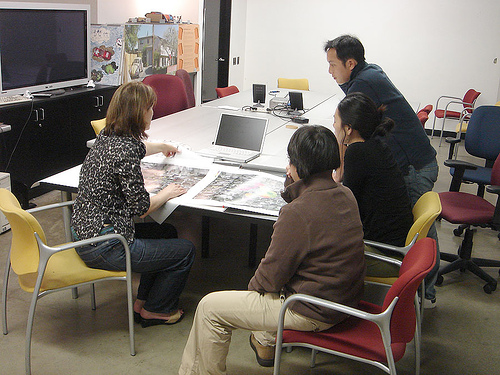 Lately, there's been some talk among coworking space owners about how to build a community of coworkers, not just a community of desk renters.
Coworking has the ability to transform individual careers and invigorate local economies, but only when members use their talent and personality to take it to a level above desk-sharing.
Space owners and community managers can do their best to provide intentional avenues to get people talking, but at the end of the day when there's no event scheduled the community will only thrive if members aren't afraid to step outside their comfort zones and talk to each other without needing a staff person to help them do it.
The freelance industry is exploding. Everyday, fresh new faces join the trend, excited but completely unprepared for the challenges ahead. (Remember, that was you once!)
If you're the slightly introverted type, and would rather plug-in and crank out work than conversate, consider this:
1. Sharing Is Caring: We all know how hard it is to be the new kid. In fact, that's why lots of us got off the corporate merry-go-round in the first place. Coworking is supposed to be different, but once a community is established, it's easy to fall into the same routines, slogging to our usual spot, plugging-in and checking out. Mentoring doesn't need to be a formal process, it's as easy as taking an interest in a new member's profession, or asking them out to lunch. Asking about how a project's progressing, offering to give feedback, or making a professional introduction are all easy ways to make a big impact in a fellow-coworker's day.
2. Teaching Makes You An Expert: Have you hit a professional plateau? Feel like you're at the top of your game, and the challenge has suddenly disappeared? Taking a less-experienced freelancer under your wing is a great way to put your treasure-trove of knowledge and experience to work. If you've always wanted to try consulting or public speaking, one on one mentoring is a great way to test the waters and build your reputation as an expert.
3. Help A Noob Avoid Mistakes: While there are some trials of business ownership that must be experienced, lots of mistakes could be avoided if only there was someone to tell you what to look out for. Baby freelancers are full of questions, and just dying for someone to answer them. Make yourself available. Chime in when someone's struggling with an issue you've already conquered. Not only will you be helping to cultivate a more vibrant coworking community, you'll be building major karma points as well.
Would you be willing to help a new freelancer learn the ropes? Or, if you're new to freelancing, would you like to find a mentor? Share your thoughts in a comment!
Image Credit: Flickr – IK's World Trip