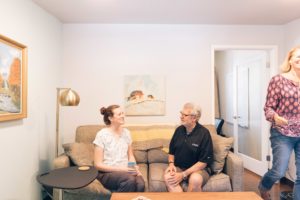 Whether you've been working from home for the last month or for the last decade, if you're new to coworking in Fort Collins, figuring out how coworking works can seem overwhelming. This post will break down the basic terminology that you'll find across many coworking spaces and give you a lot of detail about how your Cohere membership will work after you join.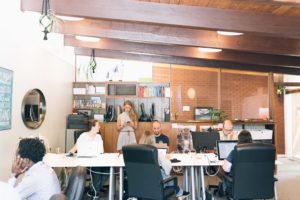 The work spaces
Coworking spaces typically offer FOUR things: Flex desks, dedicated desks, private offices, and meeting room rentals.
Flex Desks: Flex desks are desks that are by-the-day desks that operate a lot like a coffee shop. If the desk is empty, it's yours to sit at.
Pros: you can continue your nomadic/mobile lifestyle and continue to have some days working from home, some from a coffee shop and some from your coworking space. Flex desks tend to be attached to the most flexible types of membership: month-to-month. I like the flex desk option because members can upgrade and downgrade their membership as needed so it's just what it sounds like— ultra-flexible.
Cons: If you're a person who needs stability and continuity in your life, a flex desk might seem like a nightmare for you. If you have a large desktop PC, multiple monitors, or ergonomic issues then a flex desk is not a good choice. If you are on the phone for more than two hours per day, you might find a flex desk tedious because you'll be picking up your laptop to go to a phone room multiple times per day. You also have to remember to bring all the things you might need for the day with you. This means carrying with you all of the power cords, headphones, and connection dongles that you'll need to be productive.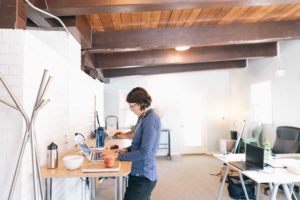 Dedicated Desks: Dedicated desks are just what they sound like; dedicated to you. You get your own desk where no one else will sit and you can leave your computer and doo-dads on it 24/7. At Cohere, we call these Neighbor Desks.
Pros: If you have a large PC, require multiple monitors, or just plain like having your pictures and paperweights surrounding you, this is a great choice. You will never have to remember to bring anything to work with you, it's already there. This option works best if you plan to be at your coworking space full time to get your job done.
Cons: The view stays the same every day. If variety is your spice of life, having a dedicated desk might hem you in a little too much. Some coworking spaces, like Cohere, occasionally have events in the coworking area. This means that you need to be okay with non-members being around your things for an hour or two every month. I have left my stuff out on my desk for eight years with zero issues.
Private Offices: MANY people want but a private office but few people actually need one to be productive in a coworking space. Private offices are very useful for the following types of businesses: coaching/therapy, people who have to be on the phone ALL DAY (think sales or pair-programmers), teams of people who will be interacting frequently throughout the day, or businesses that have lots of materials to ship or assemble.
Pros: You are the mistress or master of your own domain in your private office. You can make it look and feel just the way you want it to and leave however many things inside of it that you wish. You can take as many phone calls as you need to without having to find a phone booth. You can have as much privacy as you want by simply closing your door and hiding.
Cons: Private offices are among the most expensive membership choices in a coworking space. I recommend trying out a flex desk for a couple of months to see how it works before you upgrade. It is MUCH harder to make friends and engage with the community when you start out in your own office. You will have to make a much more concerted effort to leave your office and talk to other members. Private office members who aren't willing or able to attend social events or hang out in the kitchen to chat for an extra five minutes typically don't have a great coworking experience.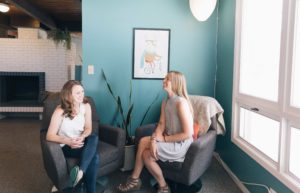 What you get with your Cohere membership
Cohere uses a flat structure for doling out most amenities. All members enjoy the same benefits whether you join at one day a week or have your own office. All memberships come with the following bonuses:
• Friends! Cohere is a smaller coworking community, so it's much easier to get to know your neighbors. You can make real friends you'll have for life.
• Business-class wifi over six Unifi access points.
• Five Drop-in phone rooms to take calls in.
• Between five and twenty free hours per month to use in either the small meeting room or the large conference room, depending on your plan as well as half off regular rates for extra hours.
• Participation in our private Facebook group and Slack channel for help, social interaction, and funny stuff whether you're at Cohere or not.
• Invitations to low-key and small scale social events like group lunches out, potluck style meals, and member-led informational talks at Cohere.
• Black & white printing.
• Shared kitchen includes: coffee, hot water, fridge, dishes, microwave/toaster oven, and the option to purchase snacks and lunches.
• Parking access with $10/month parking permit.
• Living room for casual couch-working or lunches.
• Patio/deck for outdoor working, lunch or phone calls.
• External monitors and connection dongles so you don't have to lug your screen along.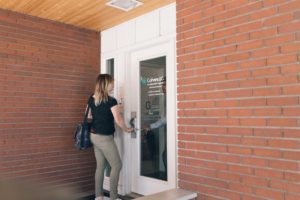 Building hours, access and using your membership
Cohere is locked all the time so our members all have key codes to access the space at whatever hour and day is most convenient for them. If you are expecting guests, we have a doorbell system so you can go greet them at the door.
Wayfarer, Neighbor, and Private office members have 24/7 access however often that they want to cowork. The Fan, Explorer, Outrider, and Nomad flex plans include two, four, eight, and twelve days per month of access and offer a different kind of flexibility.
See all of the membership plans.
Part-time flex memberships can use their days of the month in multiple ways.
Sam joins at the Outrider or eight day per month plan. A typical full work day is around eight to nine hours, but at Cohere, those days can each be broken up into two half days. In other words, Sam can either cowork eight full days of eight or nine hours at a time OR up to sixteen half days of around four hours each. If Sam takes vacation or needs to travel for work, the days can be used at any point in the month in order to get the full eight days of coworking. You can use your plan days at any point during the month but your days DON'T carry over into the next month.
All of Cohere's memberships are month-to-month so you can upgrade, downgrade or leave as you need to.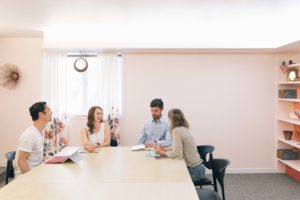 Reserving rooms
We use a membership management system to handle invoicing, payment, and room reservations. Once you become a member, you will have access to book the conference rooms online.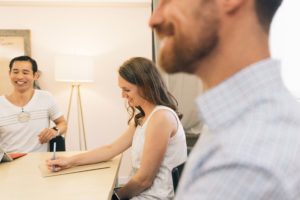 So what are you waiting for?
Schedule a tour. No really. Don't drop in on us, we might all be out to lunch together!
Review the membership choices and sign up!