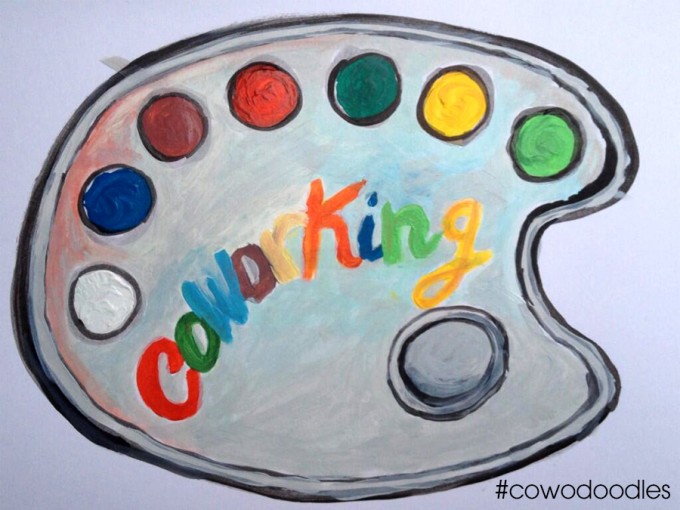 Morning Campers!
As I've said so many times before, what makes coworking unique and so beneficial isn't the Wifi speed or the selection of office types: it's the people. Coworking spaces are first and foremost communities where we celebrate, support, and challenge each other. By being independent together in our selected spaces, we are building a resilient local economy that's focused on flexibility, openness and sustainability.
With a growing number of choices across the state, I wanted to revisit the topic of how to choose a coworking space. Like that artist's palette pictured above, there are many different shades of coworking. I love our little community, but I'll be the first to admit that the Cohere shade might not be right for everyone (crazy, right?!). Choosing a coworking community is about more than comparing lists of amenities or evaluating price.
Anyone can set up desks and connect Wifi. But did they take the time to build a purposeful community? Are members encouraged to interact, or hiding in private offices? Is there a spirit of collaboration and camaraderie, or do members pass like ships in the night? The answers to these questions will greatly affect your coworking experience.
Rules of Thumb when Choosing a Coworking Space
1. Look for the people. What kind of website does the space have? Are there people in the pictures, or just empty chairs and desks. The way a space markets itself tells you a lot about the type of community that lives there. Member profiles, events, and scheduling functions should always be easily accessible. This indicates activity, enjoyment, and gives you a peek at your new neighbors.
2. Work there first. Never choose a coworking space sight unseen, I don't care how attractive their prices are. Most coworking spaces offer a free tour or day pass so that you can experience the community culture first hand. Sit in the seats. Listen to the chatter (or lack thereof). Test the lighting, Wifi speed, and coffee. Shake some hands. A coworking community has the ability to drastically affect your mood, motivation, and yes, even profits. Choose wisely.
3. Peruse the plans. A well-established coworking space offers a variety of membership plans so that you can choose the relationship that suits you best. Look for flexible, month-to-month contracts so that you can adjust your memberships according to your needs. No sense choosing a 12 month contract when you travel for 3 months every summer. Also be on the lookout for nights and weekend availability.
Alright, now that we've got those tips out of the way, feast your eyes on a sampling of Fort Collins area coworking options!
Cohere Community – 415 S. Howes St., Fort Collins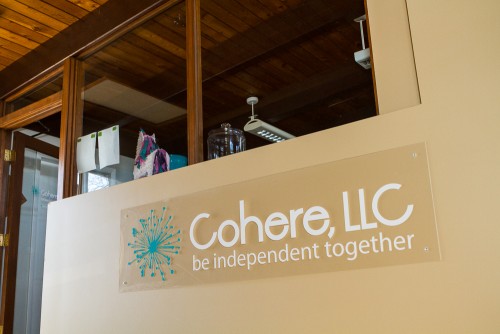 That's right, you're already on our website! Our unique space allows us to offer multiple flexible coworking areas (sit anywhere you like) as well as private offices. There are several meeting and lounge areas in which to chat with clients, as well as a reservable conference room capable of holding up to 25 people. No matter where you choose to work, you'll be greeted by lots of natural sunlight, modern furnishings, and happy people. Want to try it out? Grab a free day pass.
The Hive – 117 E. Mountain Ave. Ste. 222, Fort Collins. 

The Fort Collins Hive is a professional shared office space. It is a low cost way of having a quiet place to work, smack dab in the center of Old Town. Come and go as you please; pay really low rent; count on some camaraderie, schedule client meetings in the private, furnished conference room, receive business mail at a physical address. Your commitment is month by month, but the place feels ultra-permanent. Bonus! Full Time Hive Members can work one day a month at the Cohere – and vice versa! Community building at its finest.
Jefferson's Study – 215 Jefferson St., Fort Collins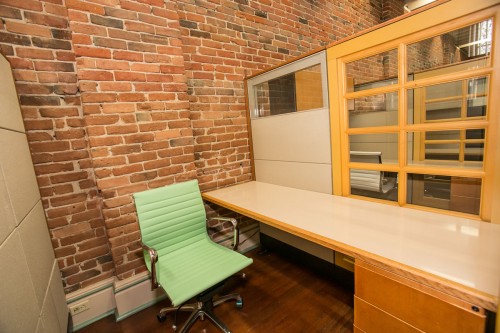 The model at Jefferson's Study is different and less flexible than many, with one person per workspace. Each has dividers — "killer cubicles" that resemble glass panels of a London phone booth — which gives some level of privacy without closing individuals off. Part-time and full-time rates vary depending on floor plan.
The Armory Workspace – 411 N Railroad Ave., Loveland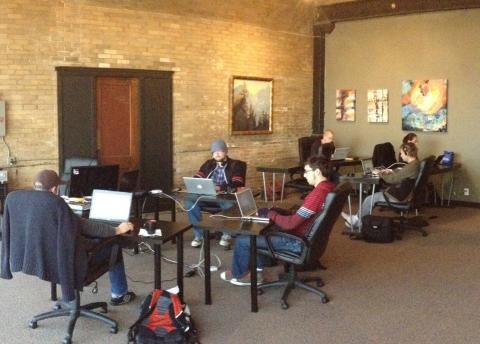 The Armory was created to provide isolated independent professionals a place to rediscover the energy of working around others. As such, the majority of the seating options in the 700-square-foot space are community style. Memberships are customizable. The space itself has high ceilings, an exposed brick wall & 12 foot tall windows that flood the room with natural light. A phone booth is available for longer, private calls or Skype sessions. A shared conference room, which accomodates 2-12 people, is available for reservation via email.
If you know a Fort Collins-area coworking space that belongs on this list, please share it in the comments!