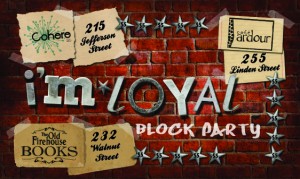 A close-knit local community has long been a source of Fort Collins pride. For years, the community's engagement has been the driving force for local businesses. In celebration of this symbiotic spirit, several small businesses in Old Town have taken local promotion into their own hands, collaborating on a hyper-local shopping campaign for the holiday season.
The "I'm Loyal Block Party" program is a collaborative effort that celebrates local independent businesses. Cohere Community, Café Ardour, and Old Firehouse Books – three businesses that reside on the same downtown block – have teamed up to develop a Loyal Locations punch card program. The I'm Loyal Block Party was mobilized by creative spirit Angel Kwiatkowski (owner of Cohere) to encourage shoppers to keep their holiday spending local.
"For Cohere, buying in to other local programs and coupon deals has been cost prohibitive so we decided to launch our own. With donated design and discounted printing, we were able to rapidly deploy (idea to launch was 14 days) our own loyalty card for about 1/10 the cost of other programs. We all frequent each others' businesses based on location so we think customers will shop similarly."
The three participating businesses are conveniently located on the same block between Jefferson, Linden and Walnut streets in Old Town Fort Collins. Beginning Nov. 25, Café Ardour and Old Firehouse Books will be handing out 2,500 free "I'm Loyal Block Party" cards to customers. Customers will receive a punch on their "I'm Loyal Block Party" cards for each Loyal Location at which they spend $25 or more. If customers spend $25 at each of the three shops between Dec. 1 and Dec. 31, 2011, they can redeem the punch card for a $10 gift card for any one of the three locations.
"It's a block party!,"  said Maggie Davis, owner of Café Ardour. "What better way to support your community than to team up with the local businesses surrounding you?"
The I'm Loyal card program is meant to extend beyond this one promotion. We hope to bring loyal Fort Collins shoppers individual cards tailored to culinary foodies, breakfast enthusiasts and bar crawlers in early 2012.
Want to participate in our next Block Party? Drop us an email.