The Cohere coworking blog continues this week with a series written by Coherians ABOUT Coherians. We talk about their pastimes, specialties, why they joined a coworking space, their favorite places in Fort Collins and what keeps them attached to Cohere.
Tavia Mirassou-Wolf
Communications and Development Manager
Sustainable Schools International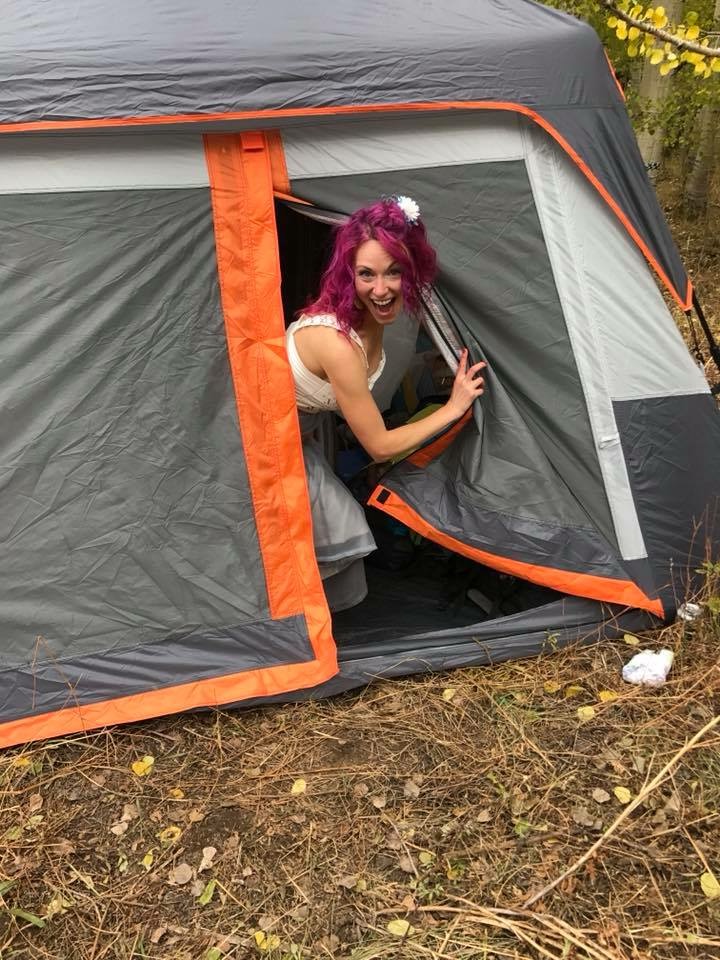 Tavia was most recently in her home state last September to run the Oregon Coast Rainshadow 50K. Coincidentally, her wedding reception was the following day.
Typical.
While that was Tavia's first ultramarathon, she's done several triathlons and other endurance races.
"It's definitely one of my biggest pastimes. I spend a lot of time exercising."
Tavia's trademark hair has been purple, pink and (currently) magenta in the past year.
"I've always liked to have a brighter color, because you only live once. You might as well have some fun."
Tavia has a Master's in Public Health with a focus on global health and health disparities. She has more nonprofit experience than you can shake a stick at. That includes working as a health educator and support group coordinator for individuals with HIV/AIDS, English as a second language and reading tutor for low-income kids, nonprofit development aid focused on education for foster children, and an internship in Uganda evaluating a mental health facilitator program.
"I've been working in nonprofits basically ever since I can remember."
Tavia currently works for Sustainable Schools International (SSI), which focuses on sustainable education for rural economic development in Cambodia.
Summarize what you do with SSI
"I do communications and development so I do all the communications for Sustainable Schools International including social media, monthly newsletters, communicating with donors—anything that has to do with communications, I do it. And then I'm also the manager of development, which is basically fundraising. So I organize and implement all our fundraising appeals and then come up with strategies to gain more funding through grants and foundations and expanding our donor base—things like that."
What's your favorite walkable restaurant?
"Jax happy hour is the best. Happy hour's awesome because you can get shrimp for five dollars and their drinks are really good, and so are their truffle fried potatoes!"
What makes Cohere unique?
Tavia began coworking at Cohere one day a week, alternating between our digs and another coworking space. With regard to the other place, "I didn't feel like there was a huge sense of community. … Their business model was more on education and classes for digital media and then private offices. So they had a coworking space but I don't really feel like there was a sense of community.
"I feel like here it's mostly based around community and co-working and I feel like people here share their lives a lot and it's not just working, which is really cool."
What makes a good Coherian?
"I think a good Coherian is someone who's willing to be open and share and help each other and also someone who can receive help."
What's a weird talent or something else unusual about you that not a lot of people know?
"I don't really have any interesting, pointless talents, but I do have nine toes."
What keeps you grounded?
"One of the major things that keeps me sane is exercising. When I don't exercise I'm a crazy person. … So that kinda keeps me sane, and then my husband Kirby keeps me sane too. He listens to me when I'm crazy and that's helpful."
Do you have a personal mantra?
"You know I haven't had one for a really long time. I should get a new one, but it used to be 'Don't let the sun go down while you're still angry.' So I always thought that was a good thing to live your life by. Don't stay angry too long because you never know what's gonna happen."
Favorite book?
The Alchemist, by Paulo Coelho
Favorite movie?
Fight Club
Mellow.
Interested in trying out Cohere? Snag a free day pass and visit us!
John Garvey is a Cohere member, business journalist and marketing copywriter. Browse his portfolio here.