The Cohere coworking blog continues this week with our Coherian member profile. Today we're talking with one of our newest members about what brought her to Fort Collins' best coworking space, her pastimes, favorite places in Fort Collins and her damn dog.
Alexandra Smith
Growth Editor • Where By Us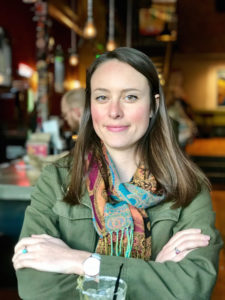 Alexandra, a native of New Jersey, moved to Fort Collins four years ago. After three years at The Coloradoan she began work at a Miami-based digital media and tech startup with offices in Orlando, Seattle and Portland. And I guess Alexandra is the Fort Collins office, in a sense. She adopted a dog a year ago—an Aussie mix named Lincoln—and I admit I'm jealous of her as I am of anyone who owns an Aussie or Border Collie.
So you ran your first 5K a few weeks ago. Do you aspire to any more or was that just a bucket list thing?
It was more of a bucket list thing and I really wanted to support the non-profit that one benefited (Animal House). I know lots of awesome non-profits in town use a 5K to fundraise so I'll just have to look for one that really motivates me to jog three miles.
(Read about the annual Animal House Run Fur Fun 5K here.)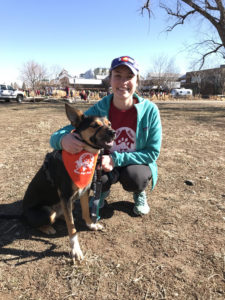 What made you choose Cohere and what makes Cohere unique?
I think the sense of community that you all try to build or have built and continue to bring new people into. I didn't want a co-working space where I was just kind of there hanging out and working quietly on my own. I can do that at home as it is. So that part seemed cool and I'm hoping there are people who are doing some similar work to me so that maybe I can brainstorm or steal some good ideas from them.
Does what you do at Where By Us loosely fall under the category of growth marketing?
Yeah, I think that's the gist of it. Since I always worked in a newsroom, I don't have any traditional marketing experience. I've just applied what I've learned along the way to news content and now in this role I feel like I'm doing much more of the marketing work and actually have a budget for paid things. Some of that's new.
On the content side Where By Us delivers a daily email newsletter that's a mix of original content, aggregated news stories and an events calendar. So the purpose or the mission there is to help everyone live like you live here. That's their slogan or motto, if you will. And it's also to not have to be burdened by all the sources and platforms that exist for news these days. And then on the tech side, they make a lot of their own proprietary tools to fulfill that mission and to fulfill their sponsored content and marketing work. (http://whereby.us/)
What's your favorite walkable restaurant?
I really like Revolution Market for lunch and their take-home dinners when I'm feeling lazy. I feel like more people should know about them so I'll give them a little shout out.
Do you have any quirky talents that you would like to share?
I can do that thing where you hold your hands behind your back and put your arms over your head. I don't know how to describe that. Is that quirky?
(Yes. To someone that's as flexible as an oak tree, that's quirky.)
I also play the piano. That's a little more boring.
(To an introvert who likes classical music, the piano is as boring as skydiving.)
What are your favorite genres?
I like to play a lot of classical music because I'm a very type A person so I need to see the notes and the structure and exactly what to do.
Who are your favorite classical composers to play, and are your favorite people to play the same people that you most enjoy listening to? 
I never thought about if listening playing were the same. I guess they are in my case.
I've been trying to play a lot of Tchaikovsky lately. I'm not very good at it. Some of his music's really hard, but that's my right now answer.
Any other interests or passions that are really central to who you are?
Piano's the big one. Also, I mentioned this to you before talking about the Animal House race, but a year ago I got a puppy and so now I feel like that has kind of taken over my life in some ways. I didn't really understand how much time it would take and I also didn't understand how much I would love the damn dog. Just all of my expectations were off. So now I'm like a dog mom, I just love Lincoln. He is part Australian Shepherd and then that's all we know for sure. He's a mix of some other things. I think he might have some black lab in him, but I'm not positive.
Interested in trying out Cohere and being surrounded by great people? Snag a free day pass and visit us!

John Garvey is a Cohere member, marketing copywriter, storyteller and writing coach. Read his blog The Garvington Post for business communication and writing tips (and the occasional rant). Also stay posted for John's GoFundMe campaign to buy a piano for Cohere. But don't tell Angel.