For this month's Cohere coworking member profile, we're talking with Andy Brown about visual art, music, Fort Collins' best coworking space, and a rewarding new collaboration.
Andy Brown
Technology Consultant • Digital Arts and Sciences
Assistant to the Wife • Cathy Morrison, Designer and Illustrator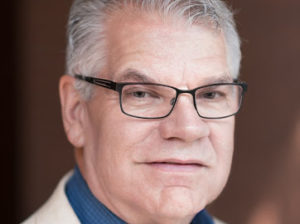 Originally from Dayton, OH, Andy grew up in Colorado Springs and has been at Cohere since he began freelancing in 2013. He's quiet, kind, and super interesting.
"I've had a very fragmented and bizarre career." 
Andy has always enjoyed artistic pursuits and technical challenges with a strong element of creativity. He had a freelance career in film and graphic arts in his 20s. Since then, he's mostly worked in advertising technology and media communications as a business analyst, infrastructure developer and various other roles. 
In Andy's last job before going freelance he was in charge of software development as VP of Technology at an advertising tech and media communications company.
He came to Cohere in 2013 on the heels of a six-month gig in Thailand. There he was working on a satellite IPTV telecommunications project.  
IPTV is … ? Bueller? Bueller?  
Internet Protocol television. Might sound dry, but it's actually cool. 
"The cool thing about IPTV is that it allows you to basically provide a cable service or a satellite delivery service like Direct TV … without having to add any additional infrastructure," explains Andy. 
Andy likens building a cable service in a place like Thailand to rebuilding Puerto Rico. That's not something I'm sure I could hack even with a steady supply of Andy's cold-brew coffee. 
Visual and Digital Art 
Andy always enjoyed the creative aspect of software and infrastructure development, but his creativity has found a new channel in digital art. He recently began as assistant to his wife Cathy's business doing logo design and other digital media stuff.  
"I've got a duality of mind that is hard to reconcile but I'm moving more towards the creativity now."  
Cathy started her business in 1981 and, among other things, has illustrated 20 or so children's books. I'm something of a children's book connoisseur and snob (yes, that's a thing) and from what I've seen her stuff is top-notch. The image below links to her site.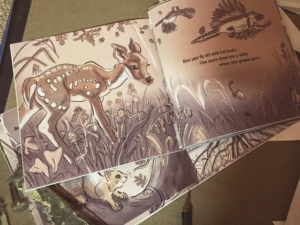 Andy's obviously enthusiastic about the new collaboration:  
"You know I just started doing this cool logo that's my first project with her. It's interesting to work with your wife—first of all, she's your boss, right? But we're getting along fabulously and it's going really well. It's like, 'Why didn't we do this earlier?'" 
Here's a current design project. Cathy did the mock-up and Andy vectorized it using Adobe Illustrator.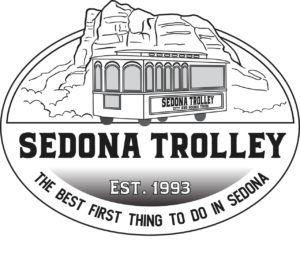 Oh yeah, and Andy's artistic talents go beyond digital mediums. He made this YESTERDAY: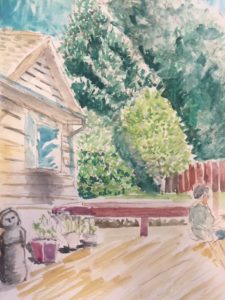 "I think this is a good direction for me in the next five years because I'm laying aside my corporate career," Andy says. "I'm doing freelance from now on so I think I can do this kind of thing with her and do the technology consulting as well." 
Andy is also sharing his talents and passions as the organizer of DomeLab, which meets in the Museum of Discovery (MoD). Gamers, artists and musicians are able to create their own immersive videos in the DomeLab with the help of Andy and some other pros. 
Cohere, Coherians, Cotivation … Clapton 
"Cohere really helped me reorient to myself and get out of my shell and that is a huge service to me. Being able to be part of Cotivation and bond with people that I don't think I would have put the time into to bond with them because I'm sort of an introvert. I don't take that opportunity easily unless there's a structure for it which is Cotivation." 
[Cotivation is Cohere's weekly accountability and goal-setting group. Each session is six weeks and meets for one hour each week.]
Upon returning from Thailand, Andy tried working out of the house and had the same experience most of us Coherians had: 
"It was just not an easy thing to work out of the house as we who have tried it all know. It's just too many distractions. … I originally thought, 'I just need to get out of the house and I need a space,' and I really thought of this place as a space. 
"I was convinced that this is not really about the space but it's about the people. 
"That's really why I keep coming back, because of the people and the opportunity to meet new people. Because I'm a cultivator as well .. I've had a chance to meet a lot of the new members, to get to know them and become friends with them. It's really been great that way. So that's what Cohere has done for me." 
[Cohere's Community Cultivator program allows members to become stewards and ambassadors of our space and in return they get a discounted membership!]
Artistic inspiration 
"I was a big MC Escher fan when I was in school. I really like the hard line of MC Escher and the multi-dimensional reality, and if you really wanted to get me going about another subject I would talk about the multiverse. And MC Escher was the artist of the multiverse. So yeah, he's inspired me. I guess I'm not as hard edge as him anymore." 
Music 
"I used to own a baby grand piano and I really regret having had to give that away because we didn't have room [after moving back to Colorado from a stint in Pennsylvania]. … 
"I love Eric Clapton and his unplugged recordings because he introduced me to a lot of other artists. And those artists were jazz artists. … I drove my wife crazy and my kids crazy but I just love riffing on it. But that would be the thing if I come back in the next life I would come back with an interest and the talent to be able to play jazz and blues." 
Interested in trying out Cohere and being surrounded by great people? Snag a free day pass and visit us! 

John Garvey is a Cohere member, marketing copywriter, storyteller and writing coach. Read his blog The Garvington Post for business communication and writing tips (and the occasional rant). Also stay posted for John's GoFundMe campaign to build a fleet of hot air balloons using recycled coffee filters.