We've started a new series on this Cohere coworking blog. It's written by Coherians ABOUT Coherians. We talk about their expertise, why they joined a coworking space, their favorite places in Fort Collins and what keeps them attached to Cohere.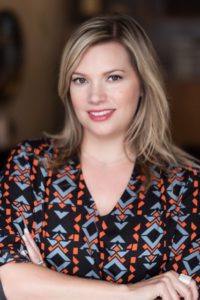 Becca Verna
Graphic Designer and Content Writer
B.V. Style Shop
John: If you're a remote worker or freelancer like me, you've thought at some point about throwing a dart at a map and uprooting yourself. Admit it. It sounds fun, but if you actually do it, I hope you end up in a town like Fort Collins. Becca didn't get here by dumb luck.
Becca: "Coming here was strictly an elective move on my husband's and my part," Becca recently told me. "We had put together an extensive spreadsheet – which I've found out I'm not the only Coherian to have – with a whole analysis of prospective places to live. Fort Collins was on that spreadsheet and after a visit here we decided to make the move."
Becca was lured here from Phoenix in late 2014 by many of the things we all love about the town: thoughtful and neighborly people, tons of sunshine, and an amazing social and recreational culture. Becca, who is known for being super collaborative and positive, worked from home for the better part of two years after the move. (We seriously don't know how!) Teaching dance helped her fill that social gap. (The dance community here, while not quite on the "Bikes, Beer and Bluegrass" pedestal, is pretty on point.)
Becca, a freelancer, can do practically all things creative: web and logo design, branding, graphic design, content writing and curriculum design. Here's more about her:
What brought you to Cohere?
Last February, I saw a Startup Week panel Angel was on called "How Coworking Can Save You from Destitution." I'd already been thinking about going to a coworking space, so I went to that talk. I tried the free coworking day at all the different spaces, which was part of the free Startup Week offering. When I visited Cohere I just felt more at ease being here. It just seemed like a good fit.
Any surprises?
I think there's a new surprise every day, just in getting to know the people here. I've enjoyed that process of learning new things about people, meeting new people as they join, meeting members that have been here that I just haven't overlapped with, but when I do, it's like meeting a new person again. It just feels like there's a new good surprise every day.
What's your favorite walkable restaurant/haunt?
Hmm. It's gonna have to be Revolution Market, just because it's my go-to for a quick sandwich or salad and they serve quality food at good prices. I also love that I can walk there—although I did just discover the Lost Cajun, which is fabulous.
What makes a good Coherian?
I think what makes a good Coherian is someone who doesn't take themselves too seriously. You need to be open to spontaneous, random conversations and also creative collaborations with other members. If you only get in there to keep your head down and work and not get to know anybody in the community, then you're missing out on so much of what being a Coherian is.
Interested in trying out Cohere? Snag a free day pass and visit us!