This week we're continuing with a new series on this Cohere coworking blog. It's written by Coherians ABOUT Coherians. We talk about their pastimes, expertise, why they joined a coworking space, their favorite places in Fort Collins and what keeps them attached to Cohere.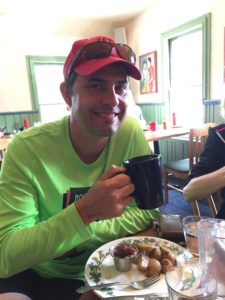 Dave Berndt
Physician and Healthcare Consultant
Dave, who we only recently discovered is an M.D., came to Fort Collins from Bozeman 2 ½ years ago. Before joining Cohere, he was a Staff Physician at CSU. Of historical note (this will sound more dramatic than it actually is) he cured my Schistosomiasis after I was exposed to it in Malawi. So I'm not saying you should go romping around barefoot in Africa, but if you do, he's the one to talk to.
Context is a funny thing. I worked with Dave for a couple months before the recognition set in because I had never seen him outside of a healthcare facility. Nobody at Cohere knew he was a physician until last month, which made me wonder what other secrets he's holding on to. I sat down with him yesterday to find out.
What brought you to Fort Collins?
Super long Montana winters, and feeling that it was a little too remote from civilization.
What do you do, anyway?
My job comes under the category of Utilization Review. That essentially means assessing either proposed or already completed medical care, along the whole spectrum of medicine, for what's called medical necessity. That's basically asking: Is that care supported by adequate scientific evidence and is it cost-effective?
There's a lot of fraud, waste and abuse that occurs out in the healthcare world that contributes to the crazy high prices, of which my position is specifically meant to prevent. That's the short and dirty of it.
What makes Cohere unique?
First, I love it here. It's certainly unique to me because I've never been in a remote working position. I came here primarily for social reasons to not work alone in the corner. And I love the diversity of different types of coworkers that I meet. I learn things about all different fields. People are relaxed, super friendly, good senses of humor and can take work lightly. But if there needs to be a solid productivity period, there's no problem achieving that either.
What's your favorite walkable restaurant or cafe?
I'm going to risk being a rogue here and say I like Harbinger and Mugs equally for coffee. Then for a healthy lunch, there's Revolution (Market) for salads. For non-salad lunch, Damn Good Tacos. They're really amazing.
Those are the biggies.
What makes a good Coherian?
I think someone who's fun, relatively relaxed and who can not take life too seriously but also be a responsible worker.
What's something we don't know about you?
I can crack my nose super loud.
Crack! Clacrack-clack! (Dave demo'd this for me and he wasn't lying. It's weird.)
What's your favorite pastime?
I'm a sporty kind of guy so I really like trail running, I play a lot of tennis, and I'm a fly fisherman as well. I love fly fishing.
(John: I am admittedly jealous when I think of going on a fly fishing trip right now.)
Dave: You can get completely engrossed in your surroundings – bugs are hatching, fish meeting… It's neat.
Interested in trying out Cohere? Snag a free day pass and visit us!