The Cohere coworking blog continues this week with our Coherian member profile. Today we're talking with Durango, CO native Scott Stoltzman about data science, Fort Collins' best coworking space, his pastimes and his favorite places in Fort Collins.  
Scott Stoltzman
Data Scientist • Stoltzman Consulting
Founder • Flannelytics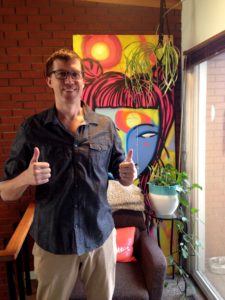 Since I began working in a coworking space, I often encounter people who do high-level, interesting stuff that doesn't make sense to my feeble, right-side dominant brain. It's a good thing that people like Scott are around to make data science coherent. 
Like many of us in Fort Collins, Scott took a circuitous route to get here. After getting a civil engineering degree from San Diego State in 2008 (the best possible time to get a CE degree, he assures me ;-)), Scott worked in Aspen, bounced around a little, traded corn and soybean derivatives, got a degree in quantitative finance and worked at Otterbox prior to joining Cohere a year ago. 
I didn't ask, but I hope he's getting plenty of sleep because he and his wife have their first kid on the way (excited for you, Scott!). 
What is it that you do, anyway? 
"Data science is the high-level term. What I do within that is kind of a mix of different things. I started my business based off of marketing and advertising. And so companies that were trying to figure out how much money they were getting back as a return for typically over $100 thousand dollars a year in marketing."
"Recently I built a site to help people use Google Analytics so I'm selling a service now called Flannelytics that helps people actually make all of their data look the same so when you go to analyze it, it's not a complete mess. One thing I realized as I was going to all these consulting jobs is that [it was hard to make sense of the data]." 
Scott also has a data science blog: Stoltzmaniac.com.
How did you end up at Cohere?
"Two years ago in February I started getting requests from people to do side projects on analytics work so I started doing that and I got more and more requests. After a full year of kind of moonlighting, it got to be too much. So I quit Otterbox and decided to do this full time. And I needed a spot to do it."
Scott discovered Cohere at a Startup Week coworking event and toured several other places before becoming a member.
"Galvanize was (a) expensive and (b) a very tech startup kind of crowd and I wasn't really in that mode. And the other coworking space? … There were zero people there and the kitchen wasn't done yet." 
What makes Cohere unique? 
"It's an interesting blend of people in terms of the crowd that works here. That was one of the big distinctions among the coworking places I toured. And Angel's hilarious." 
What's your favorite walkable restaurant?
"Choice City. There's a lot of options, but there's only one choice. I mean they've got a great beer selection. I either get the Colorado Ruben or the Italian–two of the best." 
What makes a good Coherian? 
"People that smile are a lot better than people who are grumpy. That's a huge part of it just a good attitude in general, a kind of optimism about the world."
What are your favorite things to do outside of work? 
"I go camping and hiking a lot. Those are two of the big ones. I haven't been going to as many shows lately but I do like quite a bit of live music." 
Favorite books | movie 
"Catch-22 by Joseph Heller still makes the list. It was really wild. In terms of the history book that blew me away I liked A People's History of the U.S. by Howard Zinn." 
Movie: The Big Lebowski.
"I think if you were born any time between like 1940 and fifteen years ago that could be your favorite movie." 
Interested in trying out Cohere and being surrounded by great people? Snag a free day pass and visit us!

John Garvey is a Cohere member, marketing copywriter, storyteller and writing coach. Read his blog The Garvington Post for business communication and writing tips (and the occasional rant). Also stay posted for John's GoFundMe campaign to buy a hemp-powered party bus for Cohere. But don't tell Angel.