For this month's Cohere coworking member profile we're talking with author and empowerment strategist Ali Owens about her book Bad Fat Person, her two business ventures and Fort Collins' best coworking space.
Ali Owens
Author, Speaker, Empowerment Strategist • Ali-Owens.com
 Co-Founder and Workshop Facilitator • Edana Wellness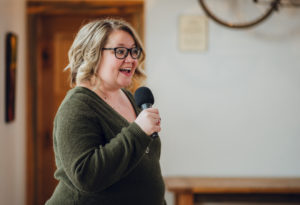 Ali is almost an honorary Colorado native, having moved to Fort Collins at age 5. She has several plates spinning in the air, but they have one unifying theme. 
"My big thing is empowerment. That's my jam. I'm actually a domestic violence survivor and after I got out of that situation I realized that I was really passionate about helping other women who don't feel in control of their lives. I basically had to start my life over at the age of 30, and I started building it to be the way I wanted and writing about my experiences. …  
"A few of the things I wrote were published on Huffington Post and I got a bunch of feedback from random people all over the world. One lady actually said, 'Your article helped me leave my abusive relationship.' It was like chills all over, it was amazing. I realized I really can make a difference in the world through my words." 
Edana Wellness
For the last four years, "putting empowering content into the world," both through workshops and through her writing, has been Ali's key focus. She co-founded Edana Wellness, a massage studio and women's community in the midst of a rebrand to emphasize workshops and community building. Her excitement is palpable: 
"Starting in April we're going to offer workshops on topics to help women heal and show up in authenticity around a variety of subjects." 
Ali's book, Bad Fat Person, is now on sale.
Tell me about Bad Fat Person: 
"Bad Fat Person is my baby. I've struggled with body image issues almost my entire life. I went on my first diet when I was 11 and I've battled with it ever since. Even in my 20s I was starving myself. … I was existing on like 1,000 calories a day backpacking and climbing 14ers and things. I was wasting away, and I still hated my body.  
"It didn't occur to me until I was about 30 that maybe the problem wasn't actually my body. Maybe it was my belief system about my body." 
Ali soon discovered through self-directed research how pervasive the problem of body image-related conditions is in our society. That led her to a moment of insight:  
"I started to ask the question, 'Do I have to hate my body? Can I just love myself the way I am?'"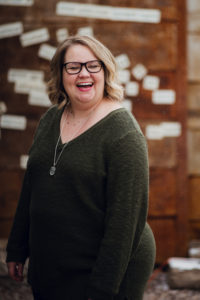 Ali quit dieting and committed to a more holistic approach to well-being founded upon a positive self-regard and body image. That shift in mindset and behavior changed her life: 
"I thought maybe I would get to the point where I didn't hate my body, but it actually introduced so much more into my life than I was expecting: Abundance and joy, and better friendships and relationships. And I thought, 'I need to share this with people.' 
"So that's what Bad Fat Person is about. It's about that journey, and my own experiences. It's also about our society. There's a lot of social commentary about our obsession with thinness and our intolerance of fatness. I think we're moving that direction as a society where people are starting to realize it's okay to not look like a Victoria's Secret model … so I want to forward that conversation and help people realize that it's okay to be fat, thin or whatever." 
What brought you to Cohere?
"I got laid off from my job right before Thanksgiving and I was panicking because I knew I wanted to do my thing, but also you've got to be able to pay the mortgage. Chrysta [Bairre] reached out to me and said she'd been thinking about hiring someone part-time to help with marketing and stuff."  
That allowed Ali to continue developing her businesses while contributing to something she was also enthusiastic about. "It's been awesome to be able to be involved with She Leads and some of the other stuff [Chrysta's] doing in the community." 
What are one or two things that really stand out about Cohere?
"I really love the energy in this building. It just feels good in here. I started coming here to do Are of Feminine Presence class with Chrysta a year and a half ago maybe and I always thought it had good vibes.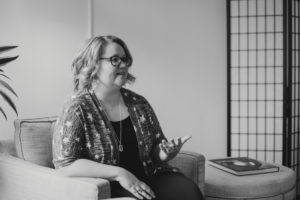 "Now that I'm here more often actually interacting with people I really love the culture. It just feels so welcoming. I'm pretty introverted and I like that this space seems to be conducive to that. It's not the kind of place that's super networky. It feels more comfortable and relaxed." 
Other Loves
Favorite local businesses
Ali loves supporting local businesses and gives a shout out here to a few of her faves: Old Firehouse Books, Happy Lucky's Teahouse and Welsh Rabbit, clustered on Walnut Street in downtown Fort Collins.  
"I love the Welsh Rabbit. I go there a lot and just have a glass of wine and a couple pieces of cheese and do some writing. It's kind of my happy place." 
Book
You Are a Badass, by Jen Sincero 
Music
"My dearest friend Kate Farmer is a musician and she's fantastic. Her voice makes me cry–it's gorgeous. She plays a lot in the Boulder area and sometimes comes up to Fort Collins." 
Mindfulness and Gratitude
"I am a super huge proponent of mindfulness and meditation and gratitude. Those three things really have propelled my life into places that I had never expected it to go. It's made a huge difference in terms of my mental health and my well-being and happiness and capacity for joy, so that's something I'm super passionate about."
John Garvey is a Cohere member, marketing copywriter, storyteller and writing coach. Read his blog The Garvington Post for business communication and writing tips (and the occasional rant). Also stay posted for John's GoFundMe campaign to acquire The Pepsi Center and turn it into the world's largest ball pit.