For this month's Cohere coworking member profile, we're talking with Dain Johnson organizational psychology, Fort Collins' best coworking space, and the importance of purpose.
Dain Johnson
Chief Administrative Officer • EnXL
Director • Rev 0

Dain moved to Fort Collins about five years ago from Houston. He's pursuing a masters in Applied Industrial and Organizational Psychology, working for an oil & gas construction company, running a business and raising a couple of kids. Damn. 
"Most of my hobbies are kind of on hold right now," he admits, although he is making time to brush up on acoustic guitar, learning songs by the Beatles, Iron & Wine and Lord Huron.
I've also noticed that Dain remembers everyone's name after the first they meet him. What is it? B-12? Fish oil? Is it a Texas thing? Tell me!
Rev 0 | Change Management & Organizational Design
"I started Rev 0 two years ago not really sure what it would be but intending it to be a consulting business. My background is engineering—primarily project management—so Rev 0 is named for 'revision zero.' When you're doing document management, revision zero means that document is ready for use. In construction, the first issue of the drawings to build off of is rev zero."
The skills and processes you need to get a successful company off the ground aren't an exact match for the ones you need to manage and grow a company. Ergo, Dain.
"I wanted to work with entrepreneurial firms trying to get established and to be something that exists for the long haul. … So I'm working with companies that maybe haven't quite found their stride yet and are still being run by the founder. They want to be a little more established and grow beyond themselves, so Rev 0 would be an avenue to help them build that foundation."
Other than the intellectual challenge of your work, what gets you out of bed in the morning?
"I want to help create companies where people like getting out of bed in the morning to go to work.
"I learned pretty early in my career that I prefer … working in a support role trying to improve or change what it means to come to work. For me, it's not like a work/life balance type thing where I work so I can take vacation or I work so I can retire.
"I enjoy what I do. It is an intellectual challenge and I'm always learning something. So I think what gets me out of bed in the morning is also that I get to learn something new every day."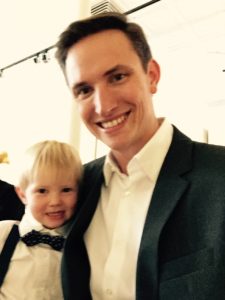 Industrial-Organizational Psychology
"Industrial and organizational psychology is focused on human behavior at work," says Dain. "I didn't even know that was a field of study whatsoever until about three- to four years ago."
"I'm getting to apply it immediately because I have to do that stuff as we grow the business down in Texas—you know, recruiting processes, how do you screen candidates, how do you build work analysis. … And a lot of IO psychology is focused on job performance.
"It is important for people to want to be at work—to have a sense of purpose there, to enjoy what they do, to be challenged.
"So that's why I like this shift of focus from a purely mechanical engineering mindset of everything being a logical process to 'We're dealing with humans every day and we're motivated by different things.' That's what this whole grad program is all about, learning how to do that."
How did you land at Cohere?
"I had been working out of my basement for a year or two, and when I get into a routine it's usually not a very productive one eventually. I knew I needed to disrupt my routine of waking up, going down to my basement and just sitting there for eight hours, researching something on the computer and trying to write something.
"I definitely missed the human element of going to work every day. I started looking around at all the coworking spaces and I didn't need another office that secluded me still, so having an open workspace was appealing. And the flexibility."
(With all Cohere's membership plans you have the option of splitting days into half days and adjusting from week to week. This is great if you're a freelance writer who is a border collie deep down and can't sit still.)
Get out of your basement. Snag a free day pass at Cohere.
Do you have a favorite walkable restaurant or cafe?
"I try to try a new one as often as possible. That's been the downside to working at Cohere is I probably spend way more money on food than I did previously because there's so much good stuff.
"But for coffee, definitely Harbinger. And for food, I really like all the sandwiches I've gotten from Choice City. That's been a good find."
Quit working from home! Get more done and meet great people as a member of our community.
Contact Cohere for a tour and a free day pass!
John Garvey is a Cohere member, marketing copywriter, storyteller and writing coach. Read his blog The Garvington Post for business communication and writing tips (and the occasional rant). Also stay posted for John's GoFundMe campaign to acquire and permanently shut down Bravo TV. Because screw that noise.