For this month's Cohere coworking member profile, we're talking with freelance writer and author Penny Sebring about Fort Collins' best coworking space, literature, community and the craft of writing.
Penny Sebring
Freelance Writer • Author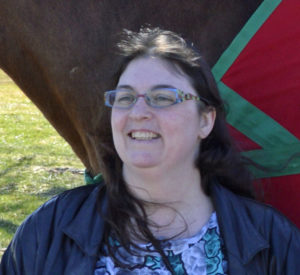 A native of Boise, Idaho, Penny spent her 20s and 30s in Anchorage, Alaska. She moved to Fort Collins in 2015.
What a drive that must have been!
"We had to make a lot of stops," she says. "We had a dog and a 12-year-old with us."
Penny's supporting cast:
Caeleigh – daughter

James – husband

Brigid – dog
Safyia – cat
Skipper – pufferfish
Sadiki – Meyer's parrot
Headlong into writing
I've seen a decent amount of Penny's writing so I assumed she'd been writing professionally for a while, but she only fell into it recently.
"When I came down here I was looking to do something other than what I had been doing which was basically tech support. I was really tired of it and answered a Craigslist ad on a whim, which is totally unlike anything I usually do. And that's where I got this job. … And that reminded me how much I really loved writing.
"I'd always kind of wanted to be a writer but had discounted the idea of being able to actually do it. It seemed like a rock star dream to actually write for a living."
Tell me about that novel.
"It's a futuristic novel in which the world is no longer livable on the surface and people have gone to floating islands above the planet. The oxygen has gotten way too great on the planet's surface itself and the correct amount of oxygen for humans is about 20,000 feet up. … A type of parasite that is actually present in freshwater moved to salt water and started invading the eggs of several species of fish, crustaceans and cephalopods.
"Because the crustaceans were particularly hard hit that got rid of a lot of the plankton, the whales died and the oxygen started rising because the ocean ecosystem had deteriorated. And then there was also a plague that hit so there's about one percent of the human population left."
Well that's a pretty steep price to pay for living on a floating island.
Were you working from home prior to coming to Cohere?
Yes. It was getting a little crowded. I didn't have a designated office.
What about Cohere really stands out to you?
"I think what I get out of it most is the people. Everyone here is supportive. I've made more connections here than I did in any of my workplaces. I've made more connections here than I did in most situations. They're real, honest connections. Everyone here is pretty genuine and I really like that. You get a lot of honesty and authenticity from them.
"I've made more connections here than I did in any of my workplaces."
"I love the fact that it's down here [in downtown Fort Collins] too so I can find places to eat and be."
"I think probably the strongest thing that keeps me coming back and doing Cotivation is that the people here are extremely authentic, very real and very warm. And it makes me feel more comfortable being me because I'm a little quirky on occasion."
Favorite walkable cafe or restaurant.
DGT — The taco joint formerly known as "Dam Good Tacos." But don't you dare say that out loud! Coherians love DGT and go there for our weekly DGT Friday tradition.
Mouth watering on keyboard.
Favorite reads.
"I like Stephen King. He's not my favorite author, but he's one of my early favorites. This happens to be the only one he claimed was a fantasy. He was writing it for his daughter originally. She was grown by the time he was done with it but it's one of my top ten."
Anything by Orson Scott Card

Xenogenesis

by Octavia Butler
If you like rare books or old books or used books or … books, check out 2nd & Charles.
Favorite quote
"All who wander are not lost." – J.R.R. Tolkien
What are your guiding philosophical principles about writing?
"Keep writing. Keep trying, don't stop, even if it's garbage sometimes.
"One of the biggest things I have trouble with is shutting off my inner critic. But it's also the thing that I believe is probably the most valuable about writing. Not only does the writer shut off her own inner critic to a point, she helps shut off the inner critic of other people who are reading her stuff.
"I believe in sharing information, as much as possible, as often as possible. When it comes to writing it's about sharing who you are, about sharing what you see. And without writing — without the stories that I had growing up — I don't know that I would have felt any connection with the world for a while. …
"I tend to think differently than average, so while that was interesting for kids when I was in elementary school, you get much past that and they're like, 'You're just weird.' So I didn't have a great number of friends until — I had a few of them in high school, when I started really making friends. My parents were busy so I ended up spending a lot of time with cats and books.
"The books gave me a better connection to the human race and I think that's important."
John Garvey is a Cohere member, marketing copywriter, storyteller and writing coach. Read his blog The Garvington Post for business communication and writing tips (and the occasional rant). Also stay posted for John's GoFundMe campaign to buy The Pepsi Center and turn it into the world's largest ball pit.