For this month's Cohere coworking member profile we're talking with Michigan native Tom Trimmer about his outdoor hobbies and adventures, currency trading, Margaritaville and Fort Collins' best coworking space.
Tom Trimmer
Principal • Trimmer Capital Management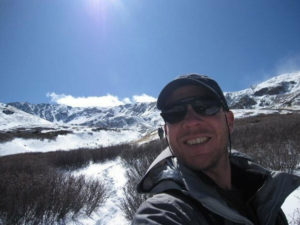 Tom, a Michigan native, settled in Fort Collins 1 1/2 years ago after spending the two decades prior living in Denver, Chicago, Boulder at different times. 
"I remember Michigan as a state being very outdoorsy," he says. "The whole city of Detroit would sort of empty out to Northern Michigan on the weekends. Kind of like here, where everybody goes up in the mountains. There's a lot of boating and sailing and watersports." 
Like several other Coherians I've spoken with, Tom hand-picked Fort Collins because he's a self-employed, remote worker. He didn't leave that outdoorsy streak behind. He had a sail boat for 15 years while living in Chicago and is planning on getting one this summer.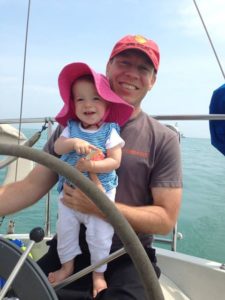 "The big reason we're in Colorado, aside from weather, is I love to ski and hike and climb," Tom says. "I love mountaineering and climbing 14ers. Everything mountain I love. I go hiking every other day." He also takes all his kids hiking and skiing.  
What brought you to Cohere? 
"I have four kids so it's really tough to work from home. It's neat to see the same people, and everybody's working and it's a good vibe. It's not loud and you can focus and socialize if you want to." 
(Tom's kids are 6, 4, 2 and 1-year old. He definitely wears concealer because otherwise there'd be some big-ass rings under his eyes.) 
Favorite walkable restaurant 
"Chipotle has always been a favorite of mine. My kid likes to go to Pizza Casbah and that's pretty walkable too. And Mugs—I like going there too." 
Currency investing 
Tom runs a currency investment business.  
"We invest our own capital with different currency traders and help customers invest their capital with currency traders as well," he says. Tom points out that currency is totally uncorrelated to the stock market. They could both bonk, they could both boom, but on occasion currency trading will earn you great returns in a bear market. 
Accidentally created a profitable, unrelated business 
Tom helped start Custom Marine Products, a marine solar company, with his dad. While it wasn't exactly an accident, it almost sounds like it just fell into place the way he explains it: 
"My mom and dad cruise on their sailboat for like six weeks every summer. My dad loves this boat. So now he has all the solar dialed in and, while he used to have to run the engine like three hours a day when he was at anchor, now he doesn't run it at all. It's much more pleasant and he developed expertise in that. 
"So I'm like, 'Dad, you've got to put up a website.' So I put one up and he ran with it and now it's a growing, thriving business." 
Solar panels are going on everything these days: food trucks, RVs, boats, housecats. In all seriousness, I'm glad the industry is thriving. 
Tom has remained involved with Custom Marine Products, mainly doing SEO and other work on the company website. "We supply some original equipment to some boat manufacturers. We supply Ranger Tuggs, which is a big customer. They make trawlers and fishing boats. So we supply solar panels to them and a lot of one-off guys designing their own systems." 
CMP works with both consumers and businesses. They're also consulting with a line of ferry boats being fitted for solar panels.  
A Rollicking Good Time with Jimmy Buffet 
Jimmy Buffett has always been Tom's favorite musician, and they've partied together. 
"I taught rock climbing in Chicago for the 15 years that I was there at a fancy gym with a huge wall," Tom tells me. "Jimmy came in during my shift once and we got along great." 
Jimmy and his entourage became repeat clients, and Tom reeled in free concert tickets and backstage passes like fish. 
Freedom! 
One of Tom's abiding purposes in life is adventure.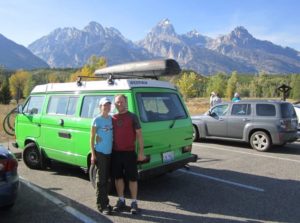 "I built my company to be super flexible to give me freedom and to have fun. We took a six-week road trip out East last summer, we went to Florida for a month last year. We took a week and drove to L.A. So I think adventure is what I'm all about." 
Tom's been at the highest point in 22 states including—and my hat's truly off to him for this—my home state Kansas. He's also summited Imjatse, near Mt. Everest, and Kilimanjaro. And the tallest peak in Bali (wherever that is). For his bachelor party, he sailed a catamaran from Fort Lauderdale across the Gulfstream to the Bahamas and back. For my bachelor party I smoked a doob with some friends, ate pizza in some dive and watched a jazz quartet at a place with no cover. I'd say we're roughly equals.