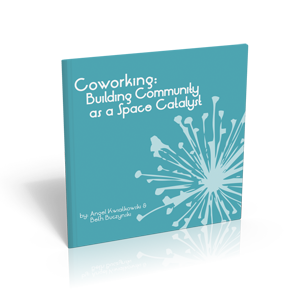 ***30% off all ebooks by Cohere. Code at bottom of this post.
Coworking: Building Community As A Space Catalyst was the first book ever written specifically for those who want to start a coworking space in their town, but aren't sure how to get started.
Co-authored by Angel "Madame" Kwiatkowski and Beth "Bethesaurus" Buczynski of Sharing Is Good, this book is a useful, hands-on and thought-provoking resource for coworking space catalysts based on the proven principle of "community first, space second (or never)."
This first of its kind book guides wannabe space catalysts through the most important phase of coworking: building the community.
"Coworking: Building Community as a Space Catalyst is a timely and much needed book about the most important movement for independent workers today," said Neal Gorenflo, founder of Shareable Magazine. Coworking spaces are one of the crucibles from which a new economy will emerge, but it's essential that the movement hold on to it's core values of community, collaboration, openness, accessibility, and sustainability as it grows. This book will help new catalysts incoporate these values into their spaces and create a life-affirming economy to replace the destructive one we have today."
Check out a preview of the book here, and purchase your own digital copy at 30% off through November 7th with coupon code SOEXCITED. Coupon code works on your entire shopping cart so buy now and buy many!