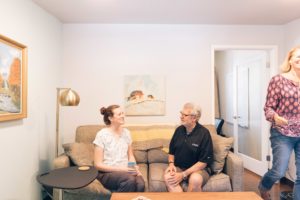 The time has finally come! Cohere is hiring a community manager to take over the responsibilities for running Cohere while the founder is on maternity leave from mid-November through March-ish. Please read this thoroughly before applying. The instructions to apply are at the bottom of this post. If this is not the right job for you, please feel free to send it along to your networks. Our ideal candidate has flexible availability during school hours M-F and 1-2 evenings/month for events.
Community Manager (part-time, temporary, contract position)
About Cohere
Cohere is a friendship-based shared office space and coworking community where creatively technical people come to work and collaborate in Old Town Fort Collins, Colorado.
Founded in 2009, Cohere became not only one of the first coworking spaces in Colorado but also in the nation.
What is coworking? Coworking is a global phenomenon that is changing the way that people work. It is the social gathering of a group of people, who are still working independently for themselves or remote employers, but who share values and who are interested in the synergy that can happen from working with talented people in the same space. Coworking saves people from the loneliness, isolation and distractions of the home office and coffees shop.

We believe that coworking happens anytime more than one motivated person gathers to work with the intent to create shared value for the benefit of the community.
Coworking at Cohere IS NOT about the desk. It's about friendship, connection, sharing, laughter and ending the crushing loneliness that comes from working from home.
***A note from the Founder, Angel Kwiatkowski: the person selected for this job will provide maternity leave coverage for me for a period of several months. I have never hired someone to do my job before. As Cohere's main contact person, whomever is hired for this position will be utterly entrusted with all of the operations of my beloved small business. Over the years, I have honed and refined our processes and systems to make us one of the "Best in Class" for coworking communities across the entire globe. That being said, I am looking forward to injecting some new energy and being open to new ideas that will make Cohere even more incredible for our members.
Cohere's Values
How to BElong to Our Community:
BE yearning for interaction
BE willing to introduce yourself, make friends and help
BE ready to participate in impromptu and planned events
BE eager to help everyone feel proud of our space and the people in it
BE prepared for abundance (work, laughter, goodwill, and more)
Overview
Understand the concept and value of coworking. The Community Manager will act as the main contact point for members and the public, helping create a culture focused on supporting members and helping them make friends. Additionally, this role will handle day-to-day operations of the space, field requests from prospective members, vendors and partners and create/coordinate events and programs as guided by the members.
The Community Manager makes sure every member feels cared for and connected to you and the other members of the space. This includes making sure they have clean/organized work space, hosting member events, knowing what each member does for work and for fun and making connections among the members. You make coffee, you make sure there's always an abundance of coffee mugs. You listen for ways to surprise and delight members. They mention how great it would be to have decaf coffee on hand. You order it. You are charming but tactful and firm when you need to be.
Skills
Good communicator: written, in person, on the phone, and via web conferencing.

Super duper responsive to emails, phone calls and in person inquiries. In a perfect world, less than a 2 hour response time would be normal on most days.

Understands when to engage/talk and when to be quiet and work or observe instead.

Good general business knowledge and practical understanding of marketing, management and record keeping.

Practical knowledge of Google Apps, Microsoft Office or other such business tools.

Punctual, professional, fast-learning, and sociable; self-starter that works well in a people-centered, collaborative environment.

Follows instructions, if none are provided can find answers.

Willing to learn new software applications.

Thrifty.
Tasks & Activities
Community Cultivation (The People)
Act as first point of contact for inquiries and assistance

Point person for community cultivators (members who will help you upkeep the space and give tours)

Greeting everyone you see includes making rounds into private offices to chat up all members

Sales and tours to introduce the space with prospective members

Follow up and correspond with contact and inquiries

Manage and integrate incoming members

Keep and maintain contact information

Engage the community with events, meetups and projects

Notify and help organize member engagement, including making introductions and connections among members

Listening to members and connecting members to one another.

Responding to inquiries from new and current members in person, by phone, email, or any other way a member might find you

Being a great communicator and wonderful people person – online, in person and everything in between

Having a positive, entrepreneurial attitude

Solving problems alongside the members

Being inclusive of members in decision making
Operations and Organizational Items (The Space)
Preparing the space for members by tidying furniture, setting up rooms and making coffee.

Helping members use the printer.

Calling comcast during internet outages.

Organizing and planning of events. Occasional (once/month) evening event needed usually wrapping up by 8pm.

Identifying and implementing new ways for Cohere to become more efficient.

Keeping track of sales, tour conversions and meeting room use/payment.
Marketing Items (The Brand)
Posting something relevant on Facebook or Instagram about once/day.

Finding and attending events to educate Fort Collins about what coworking is on a schedule that works for you.

Performing educational outreach to community groups, businesses and individuals if requested.

Thinking of and implementing new ways to promote Cohere as the best coworking space in Fort Collins.
Pay rate and hours
The hours are flexible and will likely fall between 12-15 hours/week. The contract pay rate for the position is $20/hr paid monthly.
Instructions to apply
Deadline to apply is Friday, September 7th by NOON MST.
To apply, fill out the application form found at https://coherecommunity.com/apply-now/. Applications sent via other channels (email, phone calls, drop-ins or other) will not be accepted/reviewed.