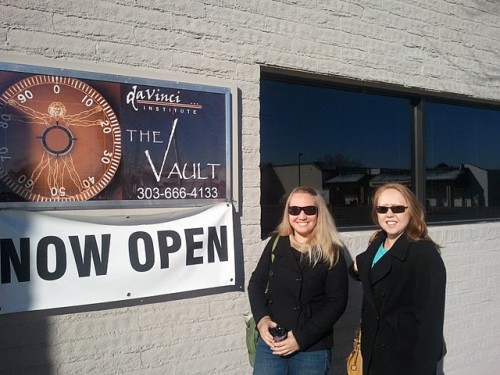 About two years ago (can't believe it's been that long!) we published a list of all the coworking spaces available in Colorado. As coworking newbies, we were surprised to be among such great company throughout all corners of the state. Fast forward about 24 months, and it's clear that the coworking movement shows no signs of slowing down.
To celebrate all this growth, around the world and right here in the Centennial state, we decided to revise the list. Many more have been added, and sadly, some have fallen off. Use this list to find coworking spaces no matter where you are and as a reference for Colorado friends who want to give coworking a try!
Colorado Springs: Enclave Coop
5376 Tomah Dr, Suite 204, 80918
Enclave doesn't appear to have any preference on what industries may join. Current members are in technical and non-technical arenas.
Memberships range from $15/day-$100/month with your first day free.
Colorado Springs: Epicentral
409 N Tejon Suite 106, Colorado Springs, CO 80903
Members enjoy 24/7 access, with a conference room, private phone booths and event space.
Memberships range from $15/day – $200/month.
Denver: Creative Density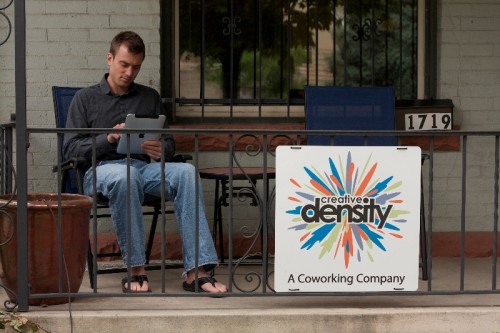 1719 Emerson St. Denver, CO 80218
Space-owner Craig Baute consulted closely with Cohere's Angel K. when planning this space, and we love what they've created down in Denver! CD strives to be a coworking community full of energy that's focused on having a healthy work/life balance.
Memberships range from $75 – $300/month.
Denver: Green Spaces
1368 26th Street; Denver, CO 80205
Green Spaces has a focus on attracting members who are environmental entrepreneurs but other businesses and freelancers are welcome.
Memberships range from $20/day- $325/mo with your first day free.
Denver: The Hive Cooperative
2401 15th Street Suite 30 Denver, CO 80202
The Hive Coop tends towards programmers but has members from all types of industries like marketing, nutrition and more.
Memberships are offered at $249/mo.
Denver: Uncubed
2762 Walnut St. Denver CO 80205
Based in Denver's RiNo arts district, this collaborative environment works similar to an incubator–a collection of creative minds exchanging ideas and insights with one another in a common space.
Memberships range from $80 – $350/mo.
Boulder: The Candy Shop
1720 15th Street, Boulder
Boasts diverse members from fashion designers to architects and digital service providers.
Memberships are offered at $10/hour | $40/day – $485/mo with a full week free for first timers
Boulder: Scrib
2060 Broadway St. Boulder, CO 80303
A downtown Boulder coworking space designed to accelerate success for entrepreneurs, freelancers and independents.
Memberships are offered from $15/day – $300/month
Louisville: The Vault at DaVinci Institute 
511 E South Boulder Road, Louisville, CO 80027
Attracts "Mobile Professionals" in a wide variety of industries from attorneys to professional speakers.
Memberships range from $25/day-$600/mo for a private office
Fort Collins: Cohere, LLC (yours truly)
215 Jefferson Street, Fort Collins, CO 80524
Likes a nice mix of "technically creative" types or those who primarily use the internet to get work done.
Memberships range from $19/day – $249/mo with the first day free
Fort Collins: The Hive 
117 East Mountain Avenue Ste 222, Fort Collins, CO 80524
Attracts small business owners in tech fields such as development and SEO.
Membership goes from $19/day-$247/mo
Loveland: The Armory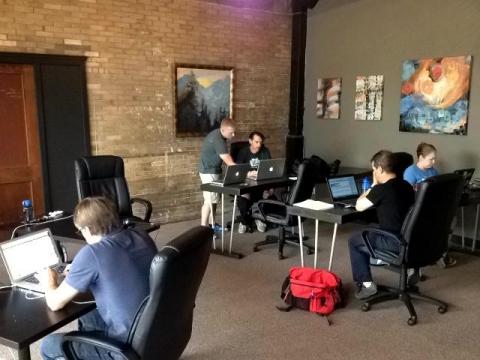 411 Railroad Ave, Loveland CO, 80537
A fairly new coworking community in Loveland's historic Depot Building. Mostly freelancers, entrepreneurs, remote workers, and creatives.
Memberships range from $45 – $215/mo
TIP: Be sure and try out a few coworking locations in your area before deciding on membership. Each coworking space has a different flavor and it's best to find the right fit for your social and working style so you can have the best possible coworking experience!
Did I miss any coworking spaces or facilities in Colorado?  If so, let me know in the comments!