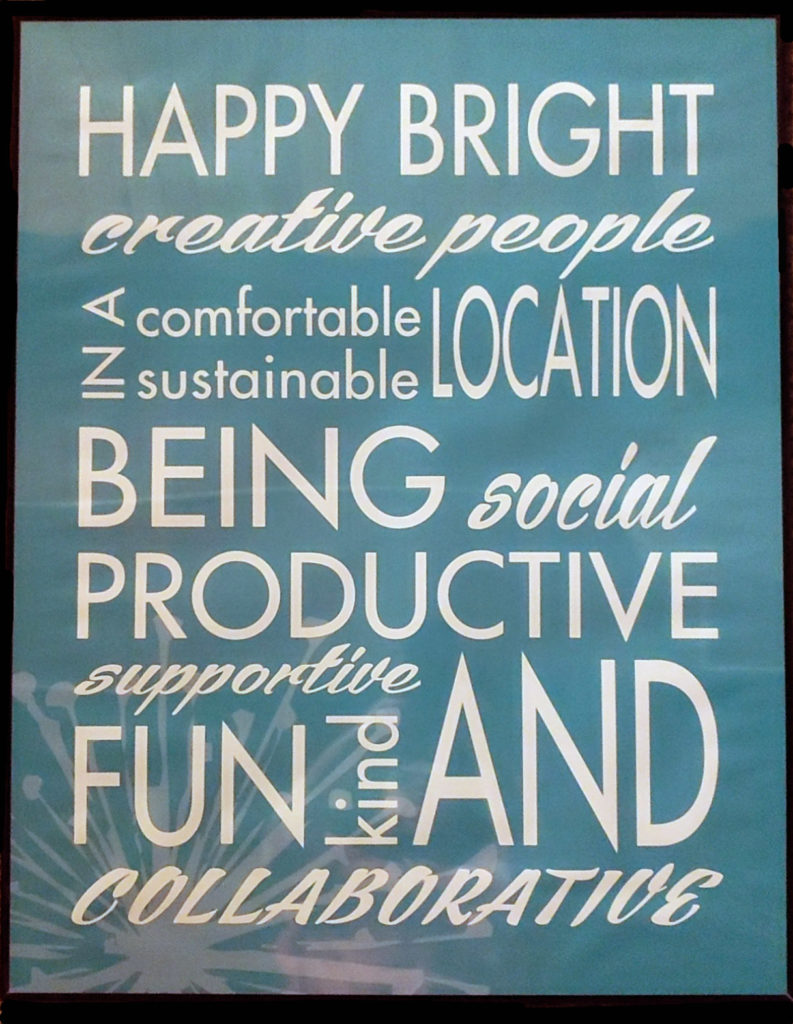 When first I moved to Fort Collins in 2015, I was confident I would have no trouble settling in. I had lofty ideals. I was going to start and run a successful business, pursue my dream of becoming a novelist, and be completely organized, all from my living room couch. By 2018 my high ideals were depleting me. I was slaving away at my business, working harder—not smarter, I was definitely not as organized as I needed to be, the novel had all but been shelved, and I still didn't have any real local friends. I hated my couch, and my family was starting to hate me.
Then I found coworking.
Coworking at Cohere provided me with the factors that I hadn't even realized I was missing. Basic business advice from those who had already been there, information about local resources, and the support of like-minded individuals. My business became more stabilized, I found time to move my novel forward, and I became marginally more organized. It also got me off of the dreaded couch.
Here's why it helped:
Local expertise:
No amount of library browsing or internet searching can take the place of advice from a real local. Yes, the internet might be able to tell you which burger place is the most popular, and you'll get some excellent information about which businesses to stay away from, but it still has its limitations. Locals can help clue you into small businesses with unique or inexpensive items as well as fantastic hole-in-the-wall restaurants that you might not otherwise notice.
Business Resources:
The sheer abundance of differing life experiences and viewpoints found at the average Coworking space provides an extraordinary number of opportunities to expand your knowledge and further your career. Most members are more than happy to recommend effective classes and seminars, suggest professional groups you can join, and some may occasionally offer up leads to more work.
Friendships:
Making new friends and connections as an adult is much more nuanced than finding friends when we were kids. According to a University of Kansas study in 2018, it takes an average of 40-60 hours together before a casual friendship starts to develop. For many remote and freelance workers, it can be difficult to find the 40-60 hours of downtime needed to create a friendship. Joining a coworking space like Cohere Coworking provides you with the chance to interact with many of the same people on a regular basis, giving you better opportunities to make friends and create a robust support system.
Moving to a new town can be intimidating, no matter what the circumstances. It takes time to get the red tape sorted out, map out the unfamiliar neighborhood, and find your new favorite coffee shop. The challenges of moving to a new town are often amplified for freelance and remote workers as we often deal with more isolation than traditional office employees. It wasn't until I found a community that Fort Collins felt like a true home and I could finally start growing where I was planted. Joining a coworking space is a great way to find a community that has the tools to help remote workers and freelancers thrive while living in a new town, and there's no reason to wait.
Are you interested in making friends and having fun while still being wildly productive?
Are you looking for the benefits of coworking—in a digital format?
Sign up for one of our sliding scale virtual memberships today!
Cohere member Penny Leigh Sebring is an experienced freelance writer, neophyte speculative fiction author, and gatherer of information and imaginary friends.