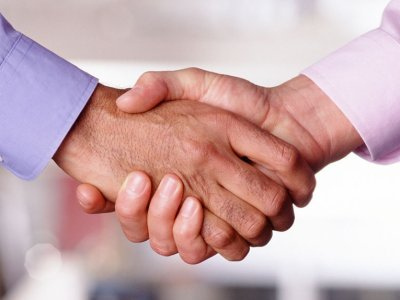 A handshake says a lot about someone. I find it especially annoying when people have sucky handshakes. Too limp-fish or too break-your-hand-off-at-the-wrist, and it's all I can think about for the first five minutes of our conversation. Handshakes are an important element of the first impression, and first impressions affect my decision to be your friend/client/vendor.
We work in a mobile, virtual world. Often the first impression a client or collaborator forms about you comes from your online presence. Let's say someone does a Google search for you or your services. The results are your very first virtual handshake. If you're a creative professional and don't have an online portfolio, your handshake sucks.
Maybe you've got a website but it's just a landing page and a contact form (that's like the limp fish handshake). Maybe your online portfolio has pages of text detailing your entire professional experience, from college graduation to present day (this is the "I'm gonna break your arm" handshake). The trick is to present just enough of yourself and your past work to leave the viewer wanting more. And wanting to pay for it.
If you've been putting off your online portfolio because you think it's too time consuming or costly, the jig is up. Here are 4 different tools and sites that will help you build a kick ass representation of yourself online.
1. About.me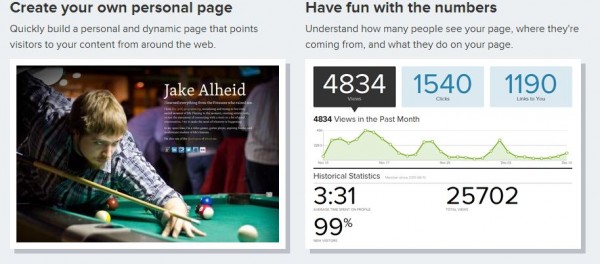 This site is all about the essentials: a bio, links to your work, and your beautiful face. This is a one page site that can be set up in a matter of minutes. Font, background, and ways to contact/collaborate with you are all customizable. If you'd rather not have your direct email and Facebook profile out there on the interwebs for all to see, this is very convenient. Also includes analytics! Only downside: it's not a personal URL. Your page will be about.me/yournamehere.
2. Weebly
This popular free service  makes web design as simple as a few clicks of the mouse, while still giving users the ability to customize HTML. You can upload 5MB files, including documents such as resumes and writing samples, or purchase a pro account and get unlimited uploads of up to 100MB. There are ample free templates that can be used to customize the look and feel of your portfolio, and even free accounts allow users to optimize web pages for easy online searchability.
3. Dribble
Dribble is a portfolio networking platform where designers share "shots," small screenshots of the designs and applications they are working on. All types of creatives are welcome here – Dribbble is designed for show and tell – to promote, discover, and explore design. Bonus! Dribble also features a "Find Designers" section, where prospective employers can search for designers by skill and location. Members of Dribbble who can post are called "Players," and new members are called "Rookies." New members sign up as "Prospects," who have to be recruited by Players to become Rookies. Dribbble offers a jobs board for designers to find work.
4. Carbonmade

Carbonmade is a personalized online portfolio building tool. It features ingenious, quirky graphics and copy throughout their entire site which really makes you feel at home as a creative. Carbonmade offers both a free and a paid ($12 mo) offering; the free option is great for getting a feel for the site, but the paid option has all the features that you need to make a robust portfolio, like the ability to add up to 50 projects, 500 images, 10 videos, custom domain binding, and access to technical support.
Have other tips about how to make or use an online portfolio? Share them in a comment!
Top image via buddawiggi/Flickr