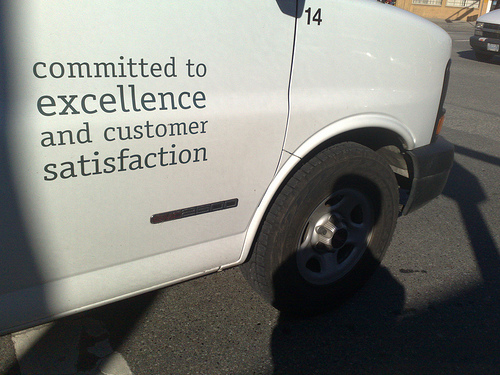 How do you gauge client satisfaction with your work?
A) They tell me how great it is. B) They refer a friend. C) They post a link to it on Facebook. D) I assume that if they pay, they were satisfied.
Although you might be able to imply satisfaction from some of these actions, the insight is more speculation than fact. As a freelancer, it's important to utilize all available avenues for improving your business and that means making sure your customers are truly satisfied.
And that means you have to ask.
Big companies know the value of a good customer satisfaction survey. They'll beg and plead and tempt you with gifts just to get you to fill it out. They know that honest feedback straight from the customer's mouth is a priceless asset. It provides direction and helps fine-tune services so that first-time customers become loyal clients.
Here are some reasons why you should think about implementing a client satisfaction survey, even if you've only got a handful of clients (and even if you think they're relatively happy).
While you may think that you have a pretty good idea of what your strengths and weaknesses are, do you have the client's perspective? Without it, you can't really be sure that you are providing good service.
Conducting a survey also shows that you care about you clients and their opinions.
Not only can they help you identify those clients who are happy, they can also make you aware of problems and potential problems, as well as give you an idea of what new products or services would be well received.
How To Conduct A Client Survey
You don't need a fancy direct mail campaign to conduct a good client survey. How do you usually communicate with your clients; email? Phone? Face to face? The answer will tell you how to issue the survey.
When developing questions, first think about how long your clients will be willing to spend answering them. Five to ten minutes is usually a good guideline. Remember that short answer questions take longer than choosing between 'very satisfied, neutral and very dissatisfied.' And be sure to TELL THEM how long it should take when you introduce the survey.
If no one responds within a day or two, send a reminder that explains why their opinion is important to you. People are busy, and things get forgotten. Don't nag- or the answers might not be so rosy.
3 Essential Questions
Making a client satisfaction survey gives you the power to ask anything you want to know! But these three questions should be at the root of everything you ask. And if you use only these three, you'll still have a pretty good survey.
Why do you enjoy being my client?
What else do you wish my business did?
Who should you tell about my business?
Have you ever used a client satisfaction survey? Tell us about it in the comments!
Image Credit: Flickr – roland