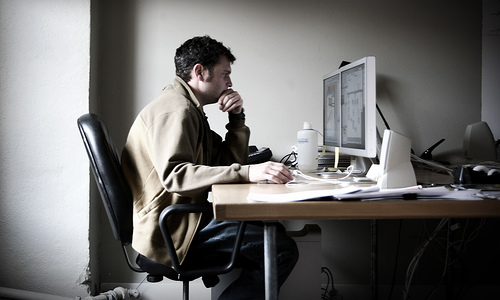 Tomorrow is International Coworking Day. That means a lot of over enthusiastic freelancers are probably going to convince you to give coworking a try. But change is hard, and often uncomfortable, so here are three reasons why you should just ignore them and go back to whatever it is you were doing.
1. Coworkers are WAY too motivated. Because freelancers who cowork find it easier to keep their professional and personal life separate, they're actually excited to put their skills to work. And on the rare occasion when a coworker has writer's block or suffers from a bad case of procrastination, their fellow freelancers are on hand to talk it out or provide a little nudge in the right direction. If you prefer watching daytime TV and cramming all your work into the three hours before a project's due, avoid coworking at all costs.
2. Coworkers get dressed (and brush their teeth) every day. Don't these people realize that pajama pants, bed head, and poor oral hygiene are the freelancer's uniform? Be careful, getting too involved in a coworking community could result in morning time energy and a desire to be around other people. You may be persuaded to comb your hair, put on makeup and do laundry on a regular basis. If you prefer comfort over community, avoid coworking at all costs.
3. Coworking will force you to advance your career. Coworkers take the time to continue their education so they can stay at the top of their game. They attend workshops, seminars, and networking events. They ask questions of their peers and get instant feedback from community members that helps them provide superior services to their clients. They challenge each other to remain competitive in their respective fields. If you're happy with the slow growth of your freelance business, and don't want to start pulling in more money or clients just yet, please, AVOID COWORKING AT ALL COSTS!
(But! If you're the kind of freelancer that craves the support of a vibrant, motivated community, and is ready to meet deadlines, put on pants, and take your career to the next level….please, GIVE COWORKING A TRY!)
Image Credit: Flickr – tofslie