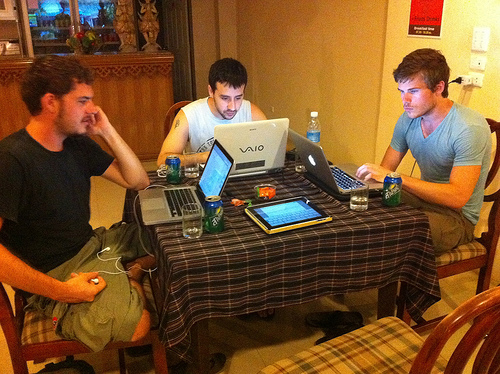 Are you the next big thing? Has your fledgling company just taken on its first two employees because business is pouring in faster than you can handle it? Right now you're working around the kitchen table (like those guys up there) but between kids, spouses, and a menagerie of pets, it's becoming impossible to get anything done.
Or perhaps you're a seasoned entrepreneur who knows the wisdom of taking it slow, but you lack a network of talented designers and marketers that can help ease your workload. You've got the capital for your own office space, but often find yourself meeting clients at coffee shops or working at the library, because you can't stand the isolation.
I know, I know. You've heard your freelance friends talking about how much they love coworking, but you don't think it's for you. You're not just taking on contract work. You're building a business. You've got proprietary information to protect, and need space for meetings with your 2, 3, or 6 member team.
Coworking is still for you.
According to the hundreds of international coworkers who responded to the 2010/11 Global Coworking Survey…
The following things are important to entrepreneurs and likely, your employees.
86% value flexible work times and the ability to interact with new people
82% value sharing knowledge with others
79% place high value on the random opportunities and discoveries made inside coworking spaces
What benefits can you expect your employees to experience?
85% saw an increase in daily motivation
88% have better interactions with other people
60% organize their working day better so they can relax more at home
86% reported meeting at least 3 helpful acquaintances in the first two months of membership
91% of coworkers are either very satisfied or satisfied with their overall coworking experience
85% plan on staying in their coworking community for at least another year
(OK that's way more than three reasons…)
Coworking with us at Cohere will unleash the true potential of your employees, and as a result, your company. Instead of limiting your pool of ideas or subcontractors in a tiny office (or kitchen), coworking incubates your business through instant connections to a city-wide network of motivated independent professionals.
In a coworking space, asking for advice, feedback, or parsing out contract work is as hard as turning around in your chair. (The people who can do these things are sitting right next to you, see?) Also, it will give your employees a change of scenery, and a chance to learn from the seasoned designers, marketers, writers, and programmers who work with us every day.
Learn more about the benefits of coworking for small business here, or send us an email about what you're budget can handle. We'll work something out.
Image via cyberhill/Flickr