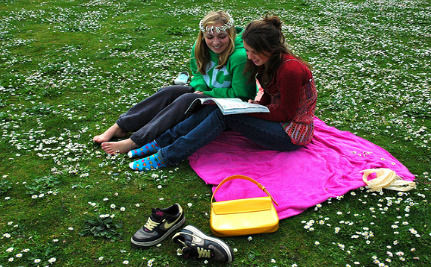 Yesterday was the first official day of summer, and although that means the kiddos are out of school, freelancers are still hard at work.
If you're planning to take a few days for yourself now that the weather is nice (yes, you too deserve a vacation) preparing a summer reading list can help you expand your mind while working on your tan. You'll come back to work refreshed and have a few new strategies up your sleeve as well!
Here are some of the best ebooks to download and bring to the beach. Or the mountains. Or the porch.
1. Guide to Guerilla Freelancing: In this compact eBook (22 pages), Mike Smith packs in information on how to start your freelancing business for a minimum amount of money, red flags to look out for, benefits and drawbacks to freelancing, and more.
2. Time Management for Creative People by Mark McGuinness from Wishful Thinking. Do you struggle to find enough time to get everything done? This book is here to help. Over 30 pages on how to manage your time better.
3. How to be a Rockstar Freelancer: Written by the creators of Freelance Switch, this ebook goes far beyond the creative aspects of the business, giving practical advice on the difficult situations a new freelancer can face: from managing your budget on a freelancer's changing income to balancing work from multiple clients, How to be a Rockstar Freelancer lets you get down to the details of working as a freelancer without worry.
4. Using the Social Web to Find Work by Chris Brogan. Finding work is something every freelancer is interested in. Although this short guide (19 pages) is several years old, it still does an excellent job of covering the basics of finding work through social media.
5. 100 Habits of Successful Freelance Designers: Insider Secrets for Working Smart & Staying Creative by Steve Gordon Jr. This book (available on the Amazon Kindle) reveals solutions from a wide range of freelance designers whose years of experience have helped them find not only the most creative solutions for their clients' design needs, but also the most successful solutions. This book also focuses on the daily habits that inspire these designers to stay creative and business strategies to be successful when working on your own.
Bonus! Be sure to check out the ebooks for freelancers and wanna-be coworking space owners written by Cohere's Madame and member Beth Buczynski!
What other books, electronic or otherwise, have been beneficial to your freelance business? Share them in a comment!
Image Credit: Flickr Creative Commons – wonderlane