Later this week, most of us will celebrate Thanksgiving, a holiday when we pause to reflect on the abundance life has given us, and the blessing of friends and family.
Freelancers, and coworkers especially, have much for which to be grateful. In a time when many feel rudderless, or trapped in unfulfilled careers, we do work we love for clients we care about, and most importantly, we have a community that understands and supports our efforts every step of the way!
This year, however, it's my turn to thank you. The past 12 months haven't been easy, but you've embraced every twist in the road. Our community is more vibrant and connected than ever before. Although I'm not visibly at the helm like the early days, Cohere members have risen to the challenge and stepped up when the community needed them. Case in point? The projector.
While coworking isn't all about the amenities, it's not much fun if the ones you've got don't work. Several weeks ago, Member Derek Haynes noticed that the conference room projector was outdated and causing problems for Mac users. Instead of complaining or waiting for someone else to fix it, Derek took action. Here's what he posted on the Cohere Facebook Group page: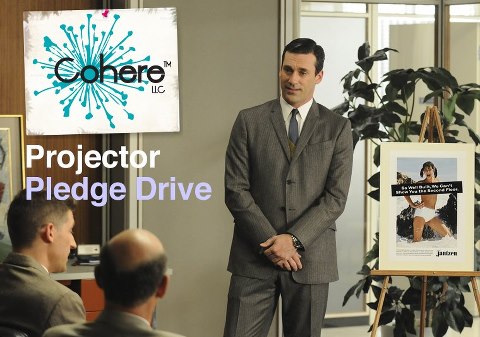 There's nothing worse than showing up all dapper-looking to lead a presentation in the conference room, then realizing the projector won't work with your Apple laptop. Unfortunately, I've seen this several times with the current projector – it's a bit outdated. How about a pledge drive for a modern, SVGA, HDMI projector? There's a well-reviewed one on Amazon for $360: http://www.amazon.com/ViewSonic-PJD5133-SVGA-DLP-Projector/dp/B005EV1R8Y/ref=sr_1_1?s=pc&ie=UTF8&qid=1351616497&sr=1-1&keywords=projector.
I've pledged the first $60 for it – you can send a donation via PayPal to fccoworking@gmail.com or just give me your hard-earned cash at office. Lets just worry about which tie to wear instead of technical issues!
Although Cohere offered to cover all but $150 of the cost, the community rallied together and raised an impressive $250 toward the cost of the new projector! In addition to Derek, Matthew Rose, Dani Grant, Nick Armstrong, Kristin Mastre, Lindsay Ogden Herrera, Julie Sutter and Darrin Sharp all deserve high-fives for contributing.
The point here isn't that these people donated, so don't feel bad if you didn't. The point is that you proved (yet again) that our community is bigger and stronger than any building that might contain it. In a recent blog post, Alex Hillman suggests that the three necessary ingredients for successful community are participation, connections and empathy. The simple act of crowdfunding a projector proves Cohere has all three in spades.
For that, and for each one of your wonderful faces, I am thankful.