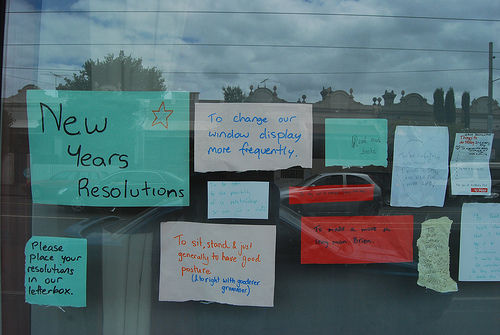 The New Year is looming large on the horizon, and that means it's time to think about setting some new goals for yourself and your business. The coworking community provides a safe haven from coffee shops and human interaction you won't get in your home office. But if you're looking for to get more out of your membership than just a laptop station, here are some resolutions to keep in mind.
1. Engage
Whether it's greeting your desk mates by name, participating in potlucks, and extra-curricular activities, or removing your headphones to get in on an impromptu brainstorming session for a fellow member, being engaged with the community is more than just showing up M-F. Choose a seat that's in the center of the room, or invite someone to lunch, and you might be surprised at how much more fun coworking can be!
2. Teach
You have talent and are an expert in what you do. If you weren't, people wouldn't pay you to do it. Chances are, the experiences and skills you've gathered along the way would be eye opening to your fellow independents. Many independent professionals are naturally shy, so if the idea of standing up in front of a group of people to unleash your expertise makes you weak in the knees, you're not alone. Realize that what you know is valuable, even if it seems simple, and if the opportunity arises to impart that knowledge to others, don't shy away!
3. Share
Tell someone about your experience coworking and invite them to try it. Pass on a contact for a good accountant, real estate agent, or networking group. Bring in that extra loaf of banana bread, or offer to be the driver to an out of town event. Think outside the box when it comes to sharing, both professionally and personally. You just might find that problems and needs have a way of being satisfied when the community supports itself from within.
Image Credit: Flickr – nicolas.boullosa