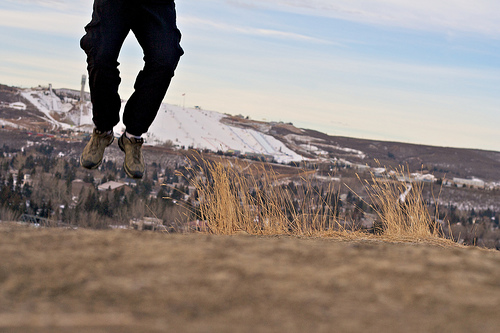 Unless it happens to be your birthday—in which case, we raise our coffee mugs to you—Leap Day is usually an uneventful happening.  But it is an extra day, and anytime the universe gives us more time in which to be productive, it's a good policy to take advantage of it.
We say, with an inspiring action word like "LEAP" in the title, why not make it an every-four-year prompt to take action?  As freelancers and entrepreneurs, we're all challenged to stick to our business growth plans—or even to make them in the first place.  Here are some ideas on how to make Leap Day a day of forward momentum in your business planning initiatives.
1. Be A Business
When you're first testing the waters of freelancing or running a side business, it's fine to simply count the profits as an extra blessing. But if you're interested in taking the next step, to full time freelancing or entrepreneurship, it's important to indicate to the universe (and yourself) that you mean business. Whether this is creating your LLC or INC., or finally opening a separate business bank account, it's time to do what's necessary to make it official.
2. Create A Brand
Once you business is official, it's time to introduce yourself to the world. They need to get to know your personality, your strengths, your expertise. They need to trust that you can get the job done, on time, for the right price. In order to properly convey these characteristics to your audience, you need a brand. Maybe it's finally creating a logo, or switching your site URL from "iamanexpert.blogspot.com" to a bonafide web address. Maybe it's finally making a list of your ideal project, client, and pay rate, and then finding out a way to get there. Yes, maybe it's finally setting up professional profiles on the most popular social media sites. Growing a business means marketing yourself, and unless you have a brand, your message will be muddled.
3. Have A Contract
This could probably have been lumped under point #1, but it's so important, it needed to be stated all by itself. The comprehensive contract is the freelancers' first (and sometimes only) line of defense against crappy clients or slacker sub-contractors. Use one, every time. If you're not sure how to make one that covers all the bases, ask around to some of the more experienced freelancers at Cohere. You can also take advantage of this handy contract creator tool over at Freelancers Union.
4. Track Your Time (Accurately)
It took you days (maybe weeks) to settle on an hourly rate that would keep you away from Ramen noodles while accurately reflecting your experience and portfolio. But all that agony does you know good if you're always guesstimating hours when it comes time to draw up the invoice. Talk to member Matt Rose about the time tracking software he created for himself, or check out these six cool tools for tracking your time (some are free!).
5. Delegate/Collaborate
If this isn't your first time around the calendar as a business owner, you've managed to stay in the black most of the time. That means soon (if not already) you'll find yourself with more work on your plate than you can handle. Don't fret–just look around you. Cohere is a honey pot of other independent professionals looking to pick up work or collaborate on projects. If a client is demanding work that you just don't have time for right now, ask around to see if anyone's interested in subcontracting for you. If this high demand is an every day occurrence, you might talk to some of the other members about how to go about hiring an intern to whom you could delegate some less-than-essential tasks.
These are only a few ideas of how to use Leap Day as a chance to get more organized for the year ahead. Got some more? Share them in the comments!
Image Credit: Flickr – dnorman