One of the best parts about being in business for yourself is that you get to pick your dress code. Every so often Cohere members will show up in pajamas, sweats or yoga pants to crank out their to-do lists.
At the prompting of long-time member Kristin Mastre, we dusted off an old coworking event and revitalized it with bacon, friendship bread and a plaid blanket.
PJs & PB&Js night coworking was reborn. The premise of the event is pretty simple. Wear your finest or comfiest PJs and contribute a fixin' to the PB&J bar. Kristin always outdoes herself and brought ingredients to make a first ever peanut butter, apple butter and bacon sandwich. I had it and it was awesome. The bacon itself was a huge hit and we had to take turns at the microwave to keep the supply flowing.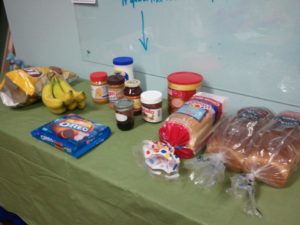 Other ingredients included marshmallow fluff, Nutella, homemade blueberry jam and extra crunchy peanut butter. Potato chips, Oreos, Amish friendship bread and hot cocoa completed the lineup.
A high lite of the night was that Kevin forgot to pack his PJs before his commute to work and ended up donning a plaid blanket as a cape for the evening.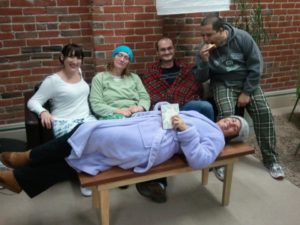 Don't miss out on a whole week of events at Cohere November 7-11. Details and RSVP.