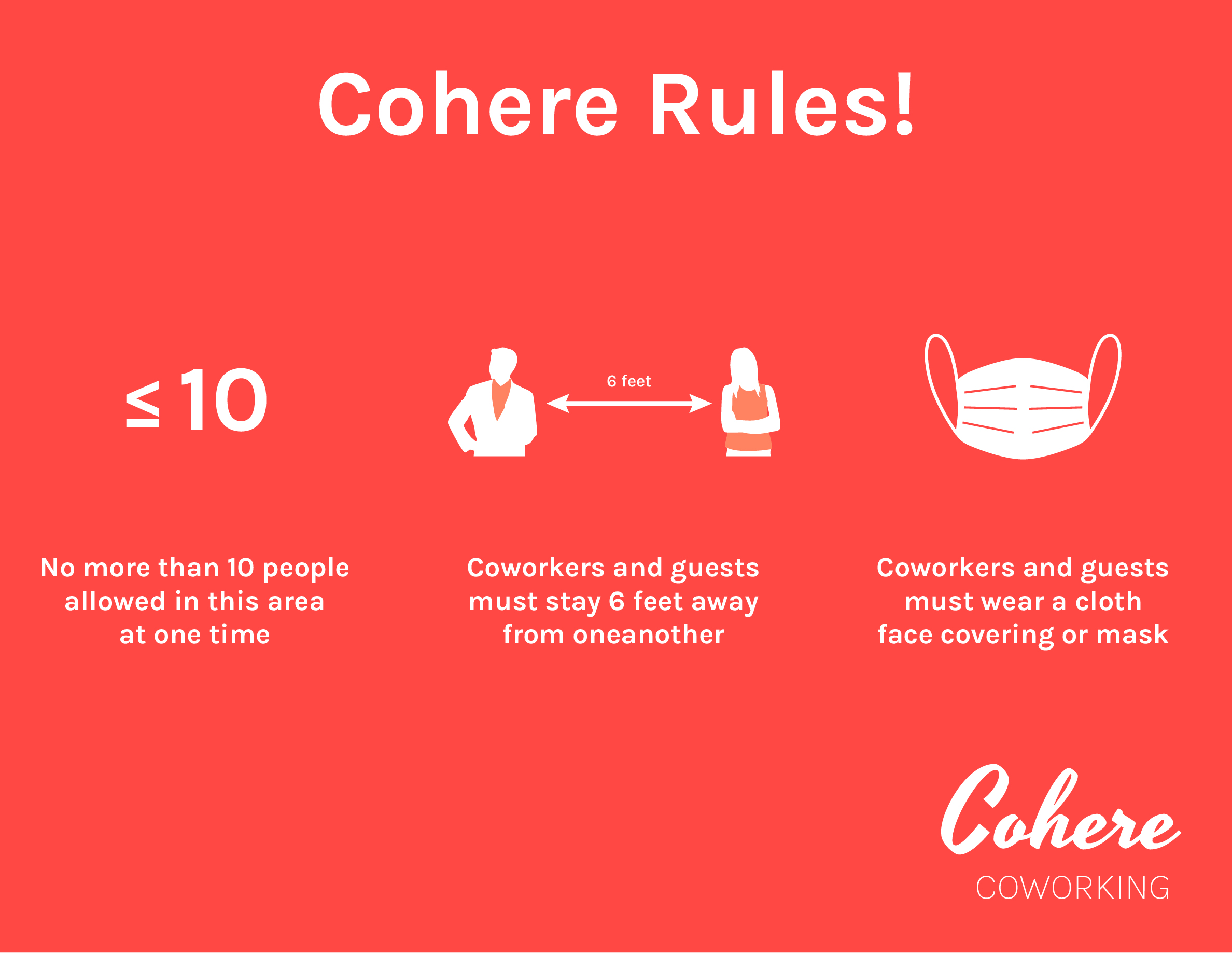 Updated June 26, 2020
You can expect Cohere to: take your health seriously, help you navigate work and life, wear a mask, disinfect regularly, provide plentiful cleaning supplies and stay home if sick.
We expect you to: take our health seriously, wear a mask, reserve your desk, use hand sanitizer, wipe your work station, wash your hands and stay home if sick.
Frequently Asked Questions
Is Cohere open?
Sort of. We are following Larimer County and Fort Collins rules for reopening meaning that we have a very reduced building capacity at this time. Right now our members have the ability to use Cohere by reserving space on our online booking system. Outside groups and events are not using Cohere.
Can people join Cohere right now?
Anyone is welcome to join Cohere as an online community member. Our robust and involved online members enjoy support, laughter and assistance from a wide variety of professionals to help make your work day more tolerable. Once you are in our virtual community, we can work to integrate you into the physical space.
For people wanting an in-person experience, we have a discussion with every prospective member to determine the safety of their return. If you want to start that discussion with us, please email us. We're available to answer ALL your questions about what it looks like to come to a shared space. We are also scheduling a limited amount of tours. Request a tour.
Do I have to share a desk with someone else?
You can have your own reserved desk at the $258/mo level. Other members do share desks and we provide ALL THE CLOROX WIPES and hand sanitizer for you to use as often as you want and especially before and after you use your work station.
What are you doing with cleaning and disinfection to keep everyone safe?
So much. We are taking this very seriously so we do the following with a kind of rigor you don't see very often in a laid back Colorado town. For starters, we require everyone to use hand sanitizer at entry and exit. Next, we disinfect all the high touch surfaces every day M-F at 12:30pm. These include, keypads, door handles, cupboard doors, light switches, flush handles, faucets/nozzles, printer buttons, the tops of our sanitizer pumps, hand railings and anything else that even hints at being touched.
We're adding to our fleet of Dyson HEPA air purifiers. We have them set to the highest sensitivity so they are clearing gasses and particulates from the air continuously down to .03 microns.
On top of all of that, our staff has unlimited sick leave so there is no reason to be a hero and come to work. Members are also required to stay home if they have any symptoms such as cough, sneezing, fever, aches or sore throat.
Last, masks are required to enter the building and are worn during work and throughout the building. We have a lot of opinions on what type of mask is best for desk work so please reach out if you need help selecting the right style. We will continue to wear masks until it is no longer mandated by city and county regulations.
Can I bring people to Cohere with me?
Because our building capacity is so limited we ask that you refrain from hosting in person meetings. Exceptions can be made if you are only bringing 1 guest and can give us a few day's notice so we can adjust our desk availability accordingly in the system.
Can I use the printer?
Yes, our shared printer is still in use. We encourage you to wipe it down with a disinfecting wipe after you use it.
Is your kitchen open?
Yes! We have reworked the coffee station with single use cream and sugar and our new dishwasher ensures sparkly clean mugs and silverware each day.
Are you still doing virtual events?
Yes! We will continue our current robust virtual connection offerings even as the building ramps up. Any Cohere member can join our virtual community. Check out those memberships.
What about in-person events?
We are just now starting to experiment with limited physically distant but in-person events. We are very excited for this phase. Our in-person events are limited to 6 total people, occur outside and allow for more than 6 feet of distance between members. Upcoming events include a Circle the Wagons (cars) Happy Hour and Drive-In Donuts. All members are invited to these and space is extremely limited obviously.