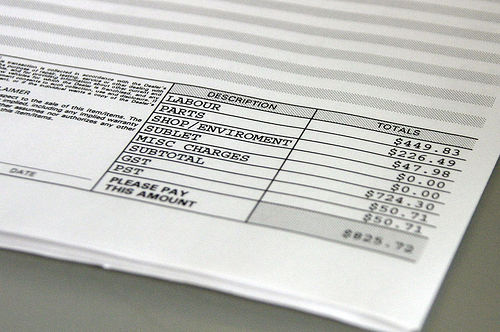 According to the first Global Coworking Survey, more than half of all U.S. based freelancers make more money after joining a coworking space. Since increasing monthly income is the goal of almost every freelancer, this is good news. However, in the immortal words of the Notorious B.I.G. "mo' money, mo' problems."
A more robust client load increases not only the amount of enjoyable work you must complete each month, it also increases the number of administrative tasks to which you must attend.
For freelancers, invoicing is a necessary evil of owning a service-based business. If you're tired of scrambling to work up professional looking invoices at the end of the month or project period, here are three FREE, web-based invoicing tools that can help you streamline the process.
Billing Boss: This tool is a product of Sage, a leading supplier of business management software and services to 5.5 million customers worldwide. Billing Boss was developed by a small dynamic, sugar and coffee driven team within Sage (sound familiar?) Unlike other free online invoicing tools – Billing Boss is free. Not "Free" for 30 days. Not "Free" until you invoice 3 customers. It's Free. Unlimited invoicing to unlimited customers. They also offer a ton of paid add-ons that can allow you to take payments on your mobile devices, etc., but you don't have to buy them if you don't want to.
Invoice Journal: Like Billing Boss, Invoice Journal is one of those rare programs that exists only in a free flavor; no commercial upgrade is available. Unlike Billing Boss, Invoice Journal is the creation of a single developer (as far as I can tell) instead of a large company. This tool features unlimited invoices and clients, multiple currencies, E-mail support (send invoices directly to clients), unbranded e-mails, payment recording, PayPal support, support for taxes and discounts, and custom templates.
Billing Manager: Made by Intuit, a brand that many businesses trust for their accounting needs, this flexible tool can allow you to manage your billing process from anywhere–in the office, on the road, and even on your iPhone. There are both paid and unpaid versions of this tool, but free Billing Manager will allow you to: create customized, professional invoices, send invoices by email, track status, and send reminders.
http://www.youtube.com/watch?v=ekqP7aXGNC8
BONUS! All of these invoicing tools are great, and can definitely make your life easier, but one thing they don't do is help you track your working hours so you know how much to charge. Luckily, Cohere member and coding whiz-kid Matt Rose has created a time-tracking and invoicing tool that's now in beta testing. If you're interested in helping him work out the kinks, let him know you want to test it out next time you're at Cohere!
Image Credit: Flickr – miguelb